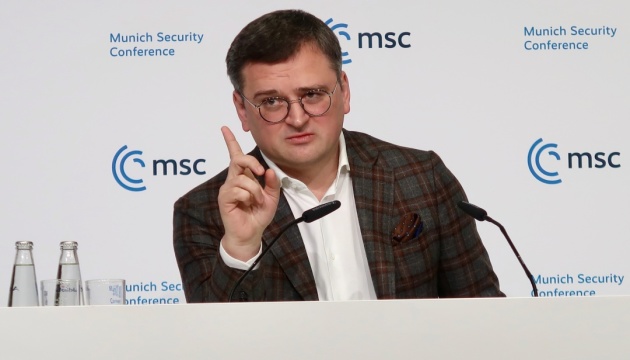 Kuleba: No doubt issue of warplanes for Ukraine to be resolved
From the outset of the war, Ukraine set itself the task of obtaining seven types of weapons to achieve victory and has already received six of them. Currently, the task is not only to obtain combat aircraft, but also to produce weapons jointly, including with Germany.
This was stated by the Minister for Foreign Affairs, Dmytro Kuleba, who spoke at a briefing for the Ukrainian media on the sidelines of the Munich Security Conference, an Ukrinform correspondent reports.
"The picture is simple: when the war began, we understood that we needed to get seven types of weapons in order to make our defense forces capable not only of defending Ukraine, but also of effectively attacking and expelling the enemy from the territory of Ukraine. Almost 12 months on, six of these types of weapons have been opened for Ukraine. That is, we have completed the task. Only the warplanes remained. Together, these types of weapons ... are the 'G7,'" the minister said.
He noted that "there is no doubt that the issue of warplanes will be resolved." The diplomat admitted that it will take a little more time, that the fight for aircraft "must be structured a little differently than for tanks, but this work has already begun."
The full-scale campaign was launched with President Volodymyr Zelensky's address to the British Parliament.
There will be many more statements like "no, we can't, not so soon", but everything will eventually be sent, the minister is convinced.
"I came to Munich for two things: rapid and stable supply of all weapons already promised, as well as of some new volumes, primarily munitions," said Kuleba.
The minister also announced that on the conference fields, an unprecedented format will be introduced as he, along with his German counterpart Annalena Baerbock, will talk with representatives of the German and Ukrainian defense industries to discuss what can be done together.
Kuleba added that there is every reason to believe that "NATO can double or triple its efforts to ensure the production of weapons and ammunition, which both Ukraine and the allies themselves will need this year to replenish their stocks." He also emphasized the importance of training Ukraine's military.
The Munich Security Conference is being held on February 17-19. Threats to international security, especially in light of Russia's aggression against Ukraine, became the main topic of this year's event.