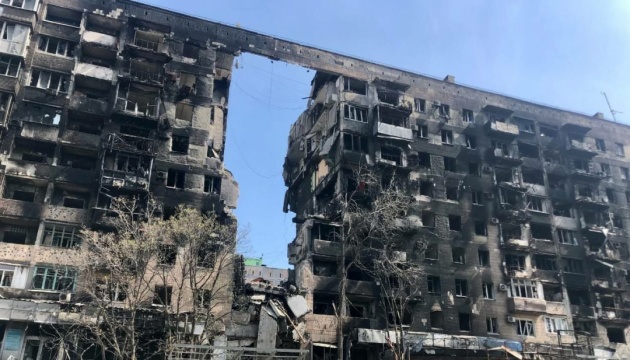 Left Bank district of Mariupol practically wiped out — mayor's advisor
Russian invaders obliterated almost the entire Left Bank district of Mariupol, the temporarily occupied city on the coast of the Sea of Azov.
Petro Andriushchenko, the adviser to the Mariupol mayor in exile, reported this via Telegram, Ukrinform saw.
"The Left Bank district de facto ceased to exist. The civilian occupiers have already reached the central Victory Square (how symbolic!) and are turning it into a part of the boundless desert. The new real limits of the Left Bank district were moved to the outskirts of the conditionally new districts. The historical and administrative part of the district has gone into oblivion," Andriushchenko wrote.
According to the official, every demolished home here is the result of Russian artillery or tank shelling.
"Everything was destroyed here as the encirclement of the Azovstal was tightening, simply as a preventive measure and sometimes for the entertainment and `video clips by 'Tik-Tok Kadyrovites,'" Andriushchenko added.
Earlier, Ukrinform reported that up to 30,000 invaders have been amassed in Mariupol and the surrounding villages, quartered through "human shield" tactics. The invaders are turning the city and surrounding villages into a military-logistics hub for the Russian army.
Photo: Mariupol City Council