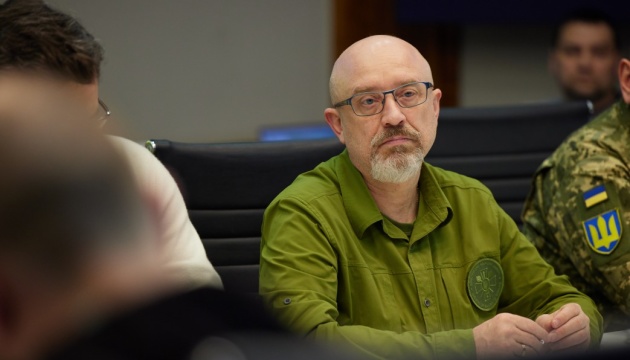 Ukraine's defense chief tells partners it won't strike Russian territory if given long-range missiles
As Ukraine needs long-range missiles that will not allow the enemy to maintain defenses and force them to lose, it is ready to coordinate targets with partners.
This was stated by Minister of Defense Oleksii Reznikov, who spoke at a joint meeting of the Ukrainian Government and European Commission, an Ukrinform correspondent reports.
"Ukraine's battlefield success is your success, too. We expect that this year will bring new opportunities... In order to win, we need to seize the strategic initiative," the minister said.
In particular, he called on partners to help establish anti-missile defense capabilities as soon as possible. In this context, Reznikov emphasized the need to get Patriot and SAMP/T systems at the first opportunity, along with more IRIS-T and NASAMS.
"If we had the opportunity to strike at a range of 300 km, the Russian army would not be able to maintain defenses and would be forced to lose. Ukraine is ready to provide any guarantees that your weapons will not be involved in attacks on Russian territory. We have enough targets in the temporarily occupied territory of Ukraine and are ready to coordinate targets with our partners," Reznikov emphasized.
In addition, the minister stressed Ukraine's need for tanks and armored vehicles and thanked partners for the decision to supply them at the latest meeting in Ramstein. According to him, this will allow for creating a panzer fist to break through Russian defenses.
Finally, Reznikov noted that there is a need to increase the amount of artillery, shells, and weapons capable of surpassing and destroying Russian e-warfare and air defense systems, which the enemy has despite the sanctions imposed.
As reported earlier, with reference to U.S. officials, media said the new package of U.S. military aid may for the first time include missiles operating at a range of up to 150 kilometers.