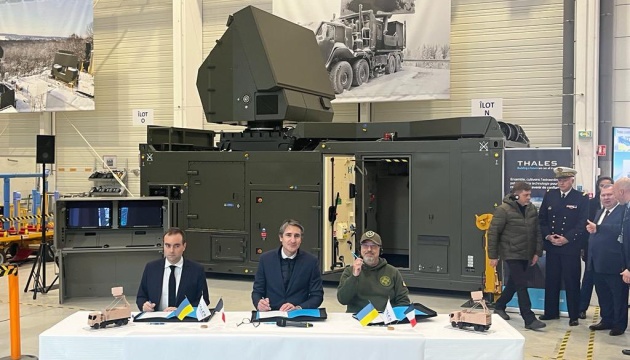 Reznikov in France signs memorandum on supply of two GM200 radars for air defense
Defense Minister of Ukraine Oleksii Reznikov, Defense Minister of France Sébastien Lecornu, and a representative of Thales Group signed a memorandum on the supply of GM200 radars for Ukrainian air defense units.
"Together with my French colleague Sébastien Lecornu signed Memorandum with Thales Group on supply of MG-200 radars for Ukrainian air defenders," Reznikov posted on Twitter.
According to the minister, this equipment will help the Ukrainian military spot enemy drones and missiles, including ballistic.
"Our skies will be protected from russia's deadly attacks," Reznikov added.
In a post on Facebook, he noted that two such radars will be sent to Ukraine.
Summarizing the results of his visit, Reznikov emphasized that the protection of Ukraine's airspace was the main topic during the two days of intensive negotiations. "This is a complex issue that includes air defense and missile defense systems, aircraft, radars, personnel training, etc.," he noted.
According to the minister, the French Crotale air defense systems already protect Ukrainian cities and critical infrastructure, and during the visit, consultations were held regarding the expansion of this component, the creation of a stockpile of missiles, etc. In addition, a discussion is ongoing regarding other systems that Ukraine expects to receive from partners in the future, "including, apart from France, the USA, Germany, Italy, Sweden, and some other countries."
As the Ukrainian defense minister noted, France will ensure the financing and transfer of 12 CAESAR self-propelled howitzers thanks to the mechanism of the special fund, the agreement on which was signed on the sidelines of the Ramstein format meeting in October 2022.
According to Reznikov, during the meeting with French President Emmanuel Macron, he thanked France for its support, in particular for the provision of AMX-10 light tanks, which "positively influenced the decisions on the provision of tanks made by other countries and contributed to the creation of a 'tank coalition' in the interests of Ukraine."
At the same time, Reznikov thanked French Defense Minister Sébastien Lecornu for his leadership and extremely quick practical steps taken.
Reznikov also visited the production facilities where he talked with the management of the Directorate General of Armaments (DGA) and the heads of French arms companies and emphasized that they have the opportunity to test their products in difficult combat conditions.
"Furthermore, France will provide training for more than 6,500 of our soldiers. In particular, 2,000 will receive professional training in the territory of France and Poland," the minister noted.
Photo: Oleksii Reznikov, Twitter
ol