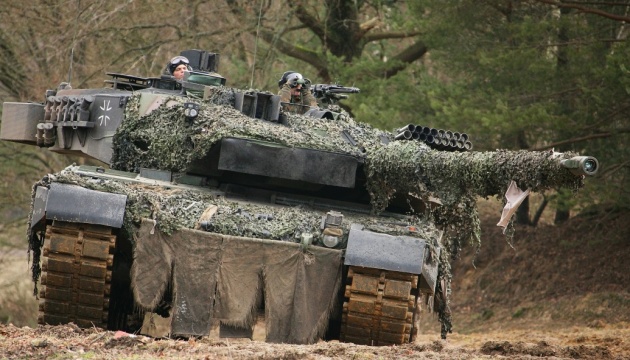 Spain confirms plans to send Leopard 2 tanks to Ukraine
Spanish Defense Minister Margarita Robles said on Wednesday that Madrid was open to providing Ukraine with German-made Leopard 2 tanks, after Germany agreed to send the tanks and allowed NATO allies to do the same.
That's according to Reuters, Ukrinform reports.
According to her, the Spanish government will act in coordination with its Western allies to help Ukraine fend off Russia's invasion.
"Spain is willing, within this coordination, to work with our allies to do whatever is necessary including the sending of Leopards, training in the use of these Leopards and also to help in their maintenance and upkeep," Robles said.
According to security and defense researcher Felix Arteaga of the Elcano think-tank, Spain has 108 Leopard 2A4 tanks. The 2A4 is an older, standard model for many European countries, and Ukrainian tank crews can receive standard training on them.
He noted that about half of Spain's tanks are in its north African enclaves of Ceuta and Melilla, and 53 are mothballed at a military base in Zaragoza and would need to be refitted.
A source with knowledge of the matter said Spain had already assessed the overhaul needs, that both Germany and Ukraine agreed with the cost, to be paid from a special fund, and estimated the tanks could be operative within two months.
Some are in a worse condition than the others, having been used for spare parts, the source added.
In late 2022, Spain delivered its largest package of defense materiel for Ukraine to date, sending to the logistics hub in Poland heavy weapons, long-range and anti-tank ammunition.
Spain has sent four U.S.-made HAWK air defense systems and has committed to sending two more. It is also offering medical treatment to wounded Ukrainian soldiers, and air defense training at its air base in Toledo.
Photo: Bundeswehr