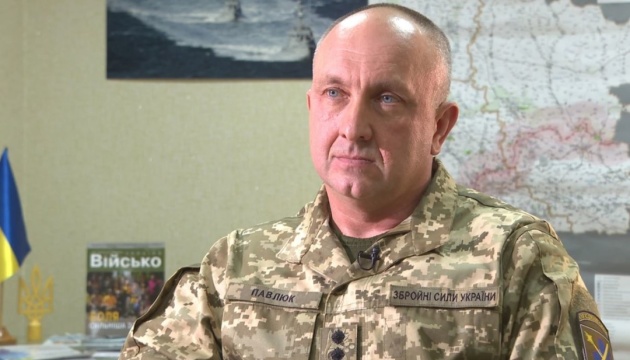 Belarus has no future as independent country - Kyiv Defense Commander
Currently, Belarus is being occupied by the Russian forces, which are stationed on its training grounds, most likely for a long time, and there will be no future for Belarus as an independent state.
That's according to Oleksandr Pavliuk, Commander of Kyiv Defense Forces, who spoke in an interview with Suspilne, Ukrinform reports.
"Belarus is being occupied by military forces that are stationed at training grounds, most likely for a long time. And there will be no future for Belarus as an independent country," he said.
Pavliuk expressed confidence that the leadership of Belarus can be held accountable for participating in the aggression against Ukraine – as an active accomplice in this full-scale war.
Separately, the commander specified that Ukraine has an eternal enemy, the Russian Federation, and that as long as this country exists, Ukraine will have no peace.
"Ukrainians have fury, first of all. Second, we are fighting for our own land. Third, we enjoy the support of the world. Weapons are coming, we are not alone. Most European countries have already understood the essence of this war. Russia is under sanctions. It became a rogue country. This is an important support for us. The fate of Ukraine is decided not only on the front lines, but also on a strategic scale," the official said.
He said that conditions are being imposed on Russia in which it will not be able to maintain its forces in the near future.
According to the commander, there is currently an understanding that the only chance to end the war is to advance to the Ukrainian borders as of 1991. In his opinion, it is impossible to give Russia a chance to have some rest, otherwise a year or two will pass before another war will be unleashed.
"In order to advance to the borders of 1991, we need equipment and weapons. The number depends on the capabilities of our partners. Some countries do not have the potential that we need. We need the efforts of the entire international community. Countries will not disarm. We are given the surplus that can be offered. We are training our people, but there is not enough equipment," said Pavliuk.
The commander believes that in order to respond to Russia massively, weapons are needed.
"But our partners do have an understanding that, if Russia is given a chance to win, the European principles of democracy will be leveled. Russia will not stop on Ukraine. The Baltic states and Poland will be their next targets. Everyone understands that. While we are a barrier between the civilized world and the horde that wants to redistribute the world," the official said.
As reported, on January 5, Defense Minister Oleksii Reznikov stated Ukraine believes Russia can use the territory of Belarus for the next invasion, and therefore is carefully monitoring the situation, bracing for a possible assault.