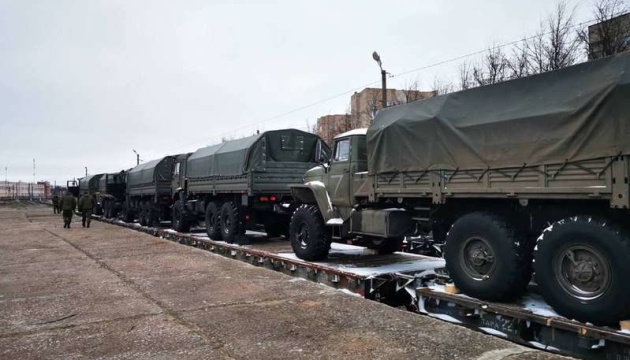 Several trains carrying Russian military equipment, soldiers arrive in Belarus Friday
Over the past day, four trains brought more Russian military equipment and troops to Belarus.
This is reported by Ukrinform with reference to the Belarusian Gayun monitoring group.
At 07:30 on January 6, a train arrived at Polonka railway station (Baranovichi district, Brest region), which contained 30 flat cars carrying wheeled vehicles, four covered rail cars, and two passenger cars carrying with personnel. Among the vehicles noticed were Ural and Kamaz trucks, armored personnel carriers, and tankers. This train is known to have departed on January 3 at 14:50 from Kantemirovka station (Voronezh region, Russia), which is located on the border with Ukraine's Luhansk region.
It is noted that 262 bases for storage and repair of military equipment (tanks), as well as a 1st separate tank brigade (created in 2015), are located in the city of Boguchar, Voronezh region. The distance from Boguchar to Kantemirovka station is about 60 km.
Yesterday morning at the Slonim railway station (Grodno region) another train arrived from Russia, also carrying military wheeled and tracked military vehicles on 27 flat cars.
The third train was spotted arriving in Baranovichi. Among the equipment, monitors noted 43 Kamaz and Ural trucks, BAZ-6306, five tankers, two ZU-23-2 anti-aircraft guns, field kitchens, and water barrels. Many trucks have the identifying symbol "Z" inscribed on them.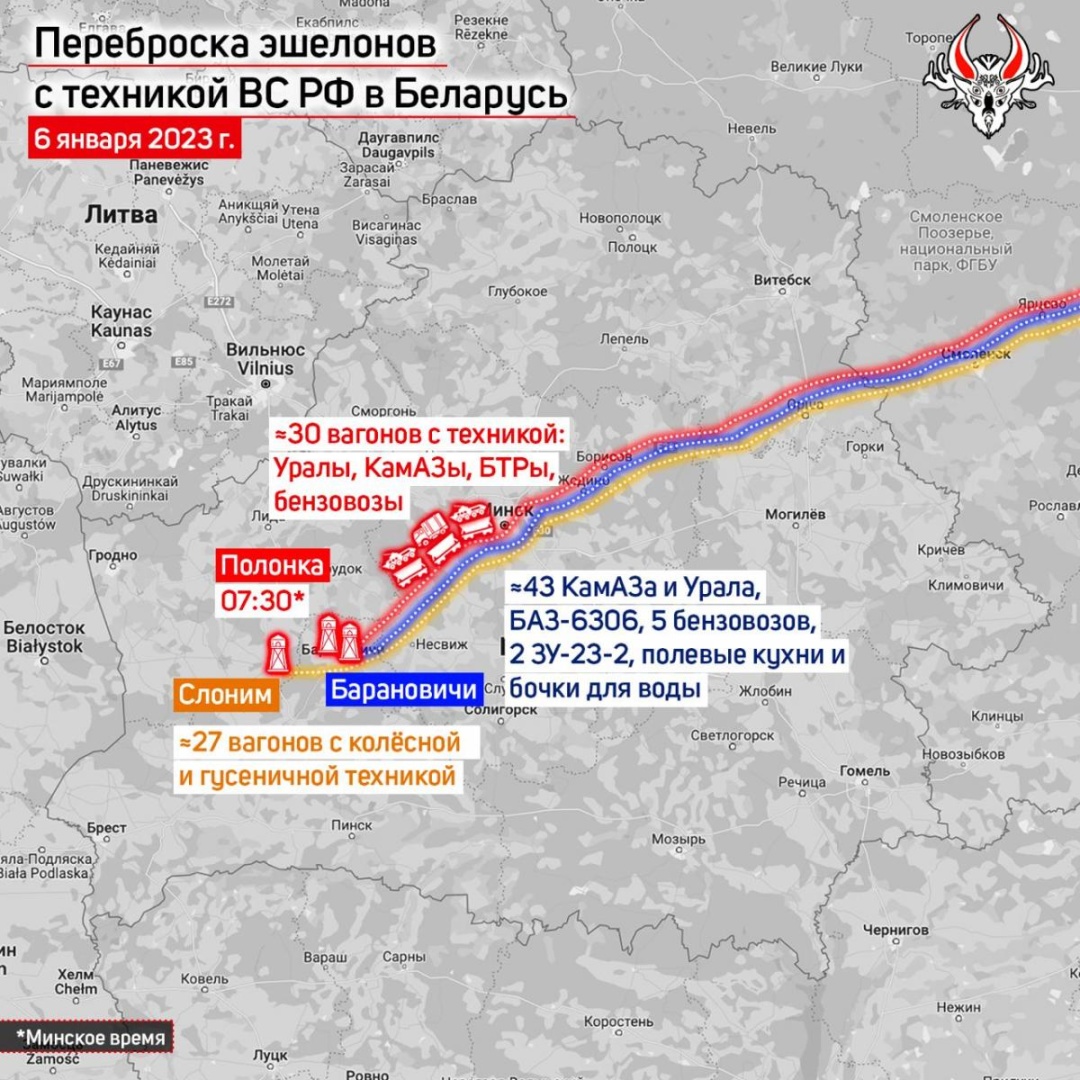 Also overnight Saturday, at 02:10, a special train of 15 passenger cars passed through the Smolensk station toward Belarus. At night, the train could arrive in Orsha or Vitebsk. It is believed that roughly 800 Russian troops could be traveling on that train. It cannot be ruled out that after stopping in the Vitebsk region, the train could move on to the Brest region, including to Baranovichi.
It should be recalled that the day before yesterday, the Ministry of Defense of Belarus announced that the formation of a joint military grouping with Russia is underway on the territory of the country. In addition, joint air force tactical training was announced there.