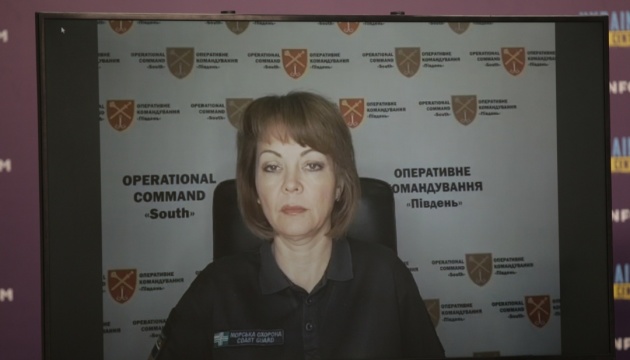 Russia preparing another major strike on Ukraine, and we're ready - army spox
Russia is preparing for a massive strike on the territory of Ukraine, but point strikes are not ruled out either.
That's according to the head of the joint press center of the Southern Defense Forces, Nataliya Humeniuk, who spoke on national TV, Ukrinform reports.
"It is obvious that the Russians are preparing for something. At present, one surface and two underwater missile carriers have been deployed, which makes up a total of 16 Kalibr missiles. We remember that they have such a trend to repeat operations that are more or less significant for them. Therefore, if you remember how they prepared for a massive missile attack on December 5, when they deployed missile carriers into the sea and raised strategic and tactical aviation, in principle everything is very similar. We are ready for this. We are aware that such a strike is possible," Humeniuk stressed.
She also noted that the enemy is capable of inflicting not only massive, but also point strikes.
"The fact that they are running out of stocks is understandable because they are using them up, but the enemy must not be underestimated. The Russians are trying to replenish their reserves despite sanctions and limitations in their capacities. We see that they are looking for an opportunity to delay the developments, to take a so-called operational pause in order to stock up and continue their 'victory show' as they think, but our countermeasures are adequate, so we won't give them that pause as we realize that we have to regain our independence as quickly as possible," Humeniuk stressed.
As Ukrinform reported, Prime Minister Denys Shmyhal said that more than 50 power substations of various voltage classes and more than 50 high-voltage power lines were damaged as a result of Russian missile attacks on the energy system.
On December 1-20, a total of 67 Iranian-made Shahed kamikaze drones were shot down over Ukraine.