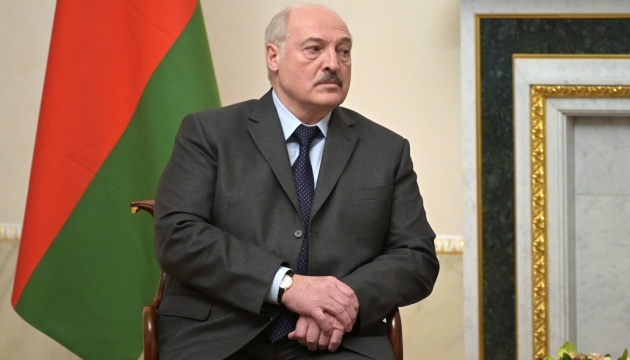 Kremlin plotting to liquidate Lukashenko, seize control of Belarus army - think tank
Sources within the Russian military leadership say the Kremlin has made a decision on a radical "solution" to the issue of dragging Belarus into Russia's armed aggression against Ukraine.
That's according to Robert Lansing Institute for Global Threats and Democracies Studies, a U.S.-based think tank, Ukrinform reports.
"On the instructions of Russian President Vladimir Putin upon his return from the latest CSTO summit, the Russian military intelligence may attempt in the coming days to pursue a scenario involving either an assassination attempt targeting Belarus President Alexander Lukashenko or its imitation, with the aim of ultimately intimidating the latter and prompting him to finally order his troops to directly engage in the war on Ukraine, alongside Russian troops," sources report.
The Russian GRU is looking into the scenario involving Lukashenko's death and his replacement by CSTO General Secretary Stanislav Zas, who is "fully loyal to Russia and under GRU's control."
According to the said plot, "Zas will shortly declare Belarus's accession into Russia as an autonomous entity, allegedly to prevent the military threat facing Belarus from Ukraine and Poland. A propaganda narrative will be spun again claiming that the attempt on Lukashenko has been masterminded by Washington."
This could testify to Moscow's choice of attempting to gain full control over the CSTO member states "by ensuring their integration into Russia or forcing them to join a new version of the Soviet Union."
"In both scenarios, be it an unsuccessful or successful attempt on Aleksandr Lukashenko, fabricated 'evidence' will be presented of the 'involvement of Ukraine and Poland under the leadership of NATO intelligence,' which will offer a formal pretext for the further participation of Belarusian troops in combat operations on Ukrainian soil," the report reads.
The GRU tilts toward the scenario involving the murder of Lukashenko and the appointment of Zas, analysts report citing sources.
"The agency's argument is that the incumbent Belarusian leader will understand who is really behind the hoax attempt. After that, while further pushing the anti-Ukrainian and anti-Western rhetoric, he will continue to maneuver, dodging the approval of his country's direct participation in hostilities on the Ukrainian territory," reads the piece.
"It is likely that Russia aims at merging the two armies under a single command of its own," the think tank assesses.
"With Russian troops already deployed in Belarus and sabotage groups being sent there, the risk is high for Lukashenko to lose office and be replaced by a Russian puppet leader anytime soon," the report stresses. "Russia is most likely to stage acts of armed provocation in Belarus with a view to push Lukashenko into joining the war. But fear of losing power will remain a key obstacle for him to make that step."
The latest reports coming from sources in Moscow speak in favor of a dramatic scenario for Aleksandr Lukashenko.