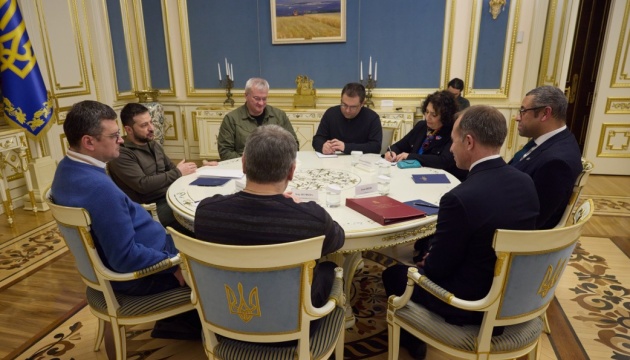 Zelensky, Cleverly discuss Ukraine's priority defense needs
Ukrainian President Volodymyr Zelensky has informed UK Foreign Secretary James Cleverly about Ukraine's priority defense needs.
That's according to the presidential press service, Ukrinform reports.
"Your visit is taking place amid a large-scale Russian missile attack that left all of Ukraine without electricity and water. But that did not stop you. Thank you," Zelensky said.
He praised the UK's unwavering support of Ukraine and the Ukrainian people and thanked the British government for security assistance, which has already reached GBP 2.3 billion this year.
During the meeting, Cleverly was informed about Ukraine's urgent priority defense needs.
"We know that you are our friends and partners, and you stand with us at this crucial moment. Ukrainians will never forget this," Zelensky said.
Zelensky informed Cleverly about the consequences of Russian terrorist attacks on the country's critical infrastructure and emphasized the importance of the British side providing aid for the reconstruction of key energy facilities that were destroyed by the shelling.
The head of state drew Cleverly's attention to the Grain from Ukraine initiative to provide food aid to the countries that suffer the most from hunger. Zelensky said that Ukraine was ready to continue making a significant contribution to guaranteeing global food security.
Zelensky also thanked the UK for supporting a UN General Assembly resolution on the compensation mechanism for damages caused to Ukraine by Russian aggression. He also expressed hope that the British side would support the initiative to create a special international tribunal for the crime of aggression against Ukraine.
At the same time, Zelensky emphasized the importance of the UK's decision to recognize the Holodomor as genocide of the Ukrainian people.
"It is important to do this right now, when Ukrainians are commemorating the 90th anniversary of the Holodomor," he said.
Photo: President's Office