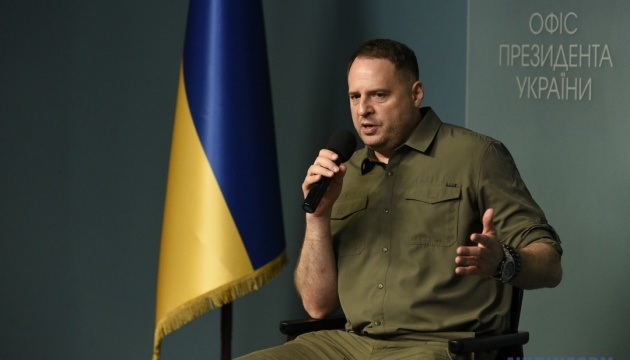 Russians relocating children with disabilities from Kherson region to Crimea - Yermak
Russian invaders forcibly relocated 12 pupils of the Oleshky Children's Boarding Home in the Kherson region to Russian-occupied Crimea.
Andriy Yermak, the head of the Ukrainian President's Office, said this in a statement on Telegram, Ukrinform reports.
"The Russians continue to cynically kidnap Ukrainian children in the temporarily occupied territories. This time, they are forcibly relocating children with disabilities who live in the Oleshky Children's Boarding Home of the Kherson region," he wrote.
According to him, on October 7, the invaders created the budget institution "Oleshky Children's Boarding School" at a municipal institution and appointed a new "director of the institution."
"We know that 82 children were currently in the institution, including 40 in palliative care. Twelve children with disabilities of the I, II and III groups, aged from 8 to 18 years, were forcibly transported to Clinical Psychiatric Hospital No. 5, located in the village of Strohonivka, Simferopol District, Autonomous Republic of Crimea," Yermak said.
He added that reports of the transportation of children had been received by the Office of the Verkhovna Rada Commissioner for Human Rights.
"It's not clear now what will happen next to the children, but Russia systematically kidnaps and deports our people, repeating the worst practices of past crimes against the Ukrainian people. There should be a harsh legal response for such actions - it is a genocide of Ukrainians. We are doing everything to make the Russians responsible for this. And they will answer on the battlefield and before the international tribunal, which will definitely be created," Yermak said.