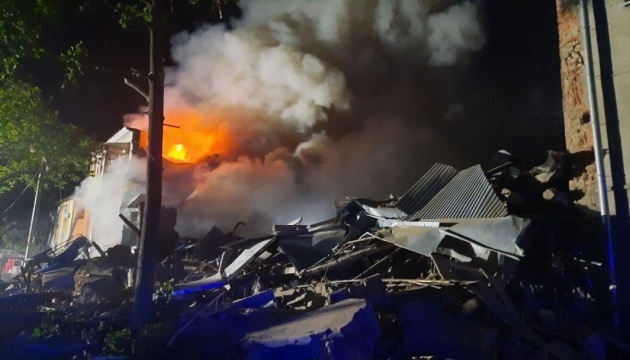 By shelling Kharkiv, Russians trying to restrain Ukrainian forces – UK intelligence
Russian troops, by constantly shelling Kharkiv, are trying to restrain the actions of Ukrainian forces so that they could not launch counter-attacks in other directions.
According to Ukrinform, the UK Ministry of Defense said this in its latest intelligence update published on Twitter.
"Russian forces hold the Kharkiv sector relatively lightly but continue to conduct local raids and probing attacks against Ukrainian forces. They are probably trying to force Ukraine to maintain significant forces on this front, to prevent them from being employed as a counter-attack force elsewhere," the ministry said.
It added that although the front line in this sector has moved little since May, Ukraine's second city has been one of the most consistently shelled since start of the invasion, when Russian forces probably aimed to reach the outskirts within 24 hours.
"Sitting around 15 km from the Russian front line, Kharkiv has suffered because it remains within range of most types of Russian artillery. Multiple rocket launchers and generally inaccurate area weapons have caused devastation across large parts of the city," the report said.
Earlier reports said that the Armed Forces of Ukraine had killed about 44,700 Russian invaders from February 24 to August 19, including 400 in the past day alone.