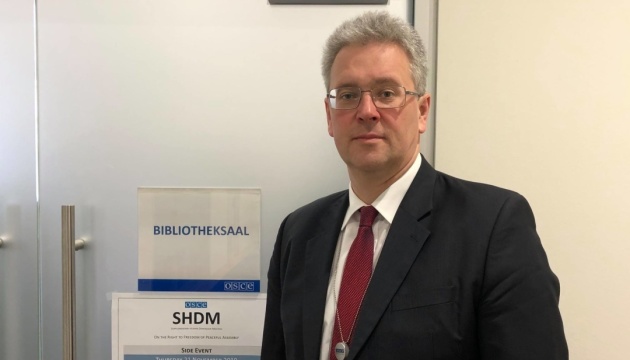 Ukraine at OSCE: Russian weapons can only be stopped by more powerful weapons
Ukraine's partners should not be wary of transferring more heavy weapons to Ukraine because Russian weapons will be stopped only by more powerful arms, as proven by the case of Snake Island.
This was stated by Ukraine's Permanent Representative to international organizations in Vienna Yevhenii Tsymbaliuk on Tuesday at a special meeting of the OSCE Permanent Council on Russian missile attacks on Ukraine, as reported by Ukrinform.
Russia has been appeased for too long, Tsymbaliuk said, adding that the international community now has to deal with the fact that Russia is destroying everything in its path. However, the fact that Ukraine has regained control of Snake Island clearly demonstrates how Russia's behavior can be changed. Russian weapons can be stopped with more powerful arms and more complex sanctions, Tsymbaliuk stressed.
According to the Ukrainian ambassador, that is why partners should not hesitate to provide Ukraine with more heavy weapons, including modern anti-aircraft and anti-missile defense systems capable of effectively protecting the civilian population against Russian attacks.
With sufficient support, Tsymbaliuk believes, Ukraine can stabilize the front line before pushing back Russian troops to the internationally recognized borders of Ukraine.
He added that Russia must be held accountable for its barbaric actions and recognized as a state sponsor of terrorism.
There must be a clear understanding that Russia can use "every cent" of profit to fuel new killings of civilians – and not only in Ukraine. At a time when the future of the security order in Europe is at stake, it is necessary take decisive action, Tsymbaliuk stressed.