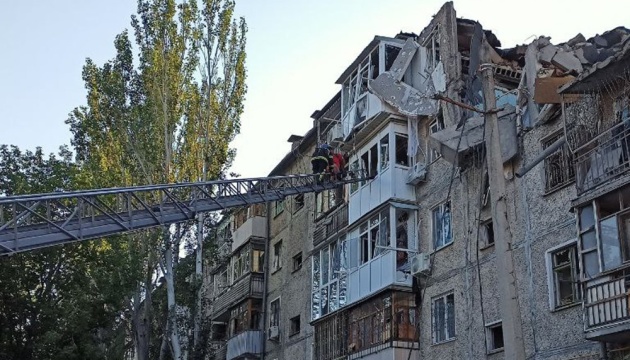 Death toll in Russian strike on apartment building in Mykolaiv rises to four - prosecutor's office
The death toll in a Russian missile strike on an apartment building in Mykolaiv has increased to four.
The press service of the Mykolaiv Regional Prosecutor's Office said this in a Telegram post, Ukrinform reports.
"Under the procedural guidance of the Mykolaiv Regional Prosecutor's Office, a pre-trial investigation has been launched in criminal proceedings on the violation of the laws and customs of war, combined with premeditated murder (Part 2 of Article 438 of the Criminal Code of Ukraine)," the statement said.
According to the investigation, on June 29, 2022, at around 06:00, Russian troops once again launched a massive missile strike on the southern Ukrainian city of Mykolaiv. One of the missiles hit a five-story apartment building.
Four civilians were killed and five injured by the attack.
The final number of victims will be determined after a search and rescue operation is carried out.
Prosecutors of the district prosecutor's office of Mykolaiv, investigators of Ukraine's SBU State Security Service, police, experts, rescuers and medics are working at the scene.
A missile that a residential building in Mykolaiv early on June 29 destroyed apartments from the third to fifth floor.