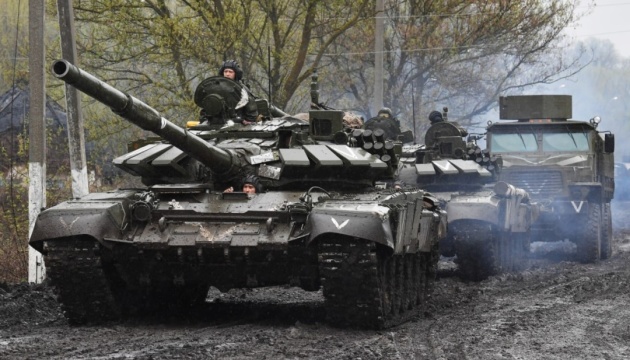 Invaders deploying more units in Donetsk, Kherson regions - Zelensky
Russian aggressors are currently fighting their fiercest battles in Donetsk and Kherson regions to curb the advance of the Armed Forces of Ukraine.
This was stated by President of Ukraine Volodymyr Zelensky in a video address, Ukrinform reports.
"The situation on the front lines in Ukraine hasn't changed significantly over the past day. The absolutely heroic defense of Donbas continues. The hottest spots are the same: first of all, it's Siverodonetsk, Lysychansk, and Popasna. There is a sense, absolutely, that the occupiers didn't believe that the resistance put up by our military would be so strong, so now they are trying to attract additional resources in the Donbas direction. As in Kherson, new units are being deployed there to restrain our actions," Zelensky said.
At the same time, he noted that most Russian invaders are well aware that they have no prospects in Ukraine, to which the latest phone call intercepts testify.
The president recalled that over 31,000 Russian servicemen had already been killed in the "senseless" war in Ukraine, and that time would come when the death toll, even for Russia, would exceed the permissible limit.
Between February 24 and June 7, the enemy's death toll amounted to nearly 31,360. Their combat losses also include 1,390 tanks (+4 over the past day), 3,416 armored combat vehicles (+16), 694 artillery systems (+4), 207 multiple launch rocket systems (+0), 96 anti-aircraft systems (+0), 212 warplanes (+1), 177 helicopters (+1), 2,405 trucks, including fuel tankers (+10), 13 warships/boats (+0), 553 unmanned aerial vehicles (+2), 53 special equipment units (+0), and 125 cruise missiles (+0).