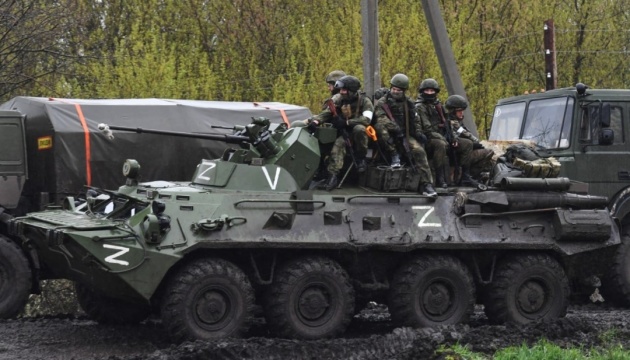 Russia redeploying land, air, naval forces from Crimea to southern Ukraine
Russia is redeploying its land, air, and naval forces from the temporarily occupied Crimean peninsula to Zaporizhzhia direction, southern Ukraine.
"A column of military equipment – about 20 tented trucks and 20 Grad multiple rocket launchers – headed from Crimea towards Melitopol. In addition, the enemy group was reinforced by a T-62 tank battalion," the Zaporizhzhia Regional Military Administration posted on Telegram, Ukrinform reports.
Over the past 24 hours, the occupiers did not conduct active hostilities in Zaporizhzhia direction but fired on Ukrainian positions with mortars, rocket and tube artillery, conducted counterbattery activities.
The Administration notes that the Russian military builds a third line of defense and redeploys reinforcements to consolidate and hold its position in southern Ukraine. At the same time, the occupiers' engineering units mined the shores of Kakhovka Reservoir.
"All this shows that Russia will try to keep the occupied territories under its control. For the same purpose, the enemy intensified the propaganda efforts in the occupied territories through the available means of television and radio broadcasting," the Zaporizhzhia Regional Military Administration added.
On February 24, Russian president Putin launched a large-scale invasion of Ukraine. Russian troops shell and destroy infrastructure, massively fire on residential areas of Ukrainian cities, towns, and villages using artillery, MLRS, and ballistic missiles.
ol