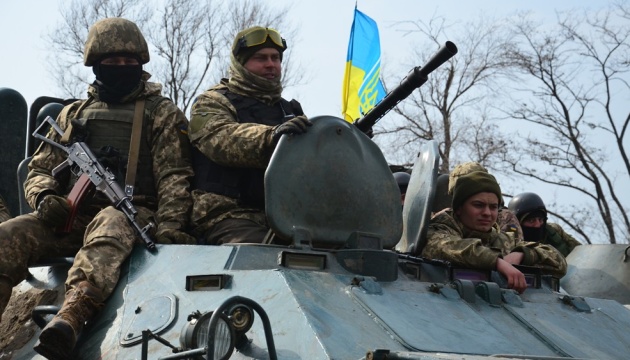 Ukrainian Army liberates 23 settlements in Kharkiv region over two weeks
Over the last two weeks, 23 settlements in Kharkiv direction have been liberated from Russian invaders.
This was stated at a briefing at the Ukraine-Ukrinform Media Center by Brigadier General Oleksiy Hromov, Deputy Chief of the Main Operations Department of the General Staff.
"Since May 5, a total of 23 settlements in the Kharkiv direction have been liberated from Russian occupation. The enemy is trying to hold back the offensive of our forces. Russia doesn't stop shelling of Chernihiv and Sumy regions to divert our forces from the main directions," Hromov said.
According to the military official, the goal of the Russian invaders remains to advance to the administrative borders of Donetsk and Luhansk regions.
"The enemy continues to focus its efforts on fighting in the east of our country. Their declared goal of the so-called 'second stage of the special operation' remains unchanged: the occupation of Donetsk and Luhansk regions within their administrative borders. Thus, at present, in the Donetsk direction, the enemy group is trying to conduct offensive operations along the entire line of contact. The enemy inflicts fire damage with the use of mortars, artillery systems, and MLR systems with the support of warplanes to inflict losses on our troops, deplete our personnel, and destroy our fortifications," Hromov said.
Currently, active hostilities are ongoing in the Sievierodonetsk, Lyman, Bakhmut, Avdiyivka, and Kurakhiv areas. The enemy is gradually losing offensive capabilities. There is also the possibility of firefights in other areas to prevent redeployment of our forces.
In the waters of the Black Sea and the Sea of Azov, the threat of missile strikes on the territory of Ukraine from the Russian fleet prevails. Invaders' warships are also blocking civilian navigation, and in order to simulate the threat of a naval landing, the enemy is constantly carrying out provocative actions, the brigadier general added.
As Ukrinform reported, from February 24 to May 19, the Armed Forces of Ukraine liquidated about 28,500 (+200) Russian servicemen. Also, Ukrainian defenders destroyed 1,254 (+3) tanks, 3,063 (+20) armored combat vehicles, 595 (+9) artillery systems, 199 (+0) MLR systems, 93 (+2) air defense systems, 203 (+1) warplanes, 167 (+0) helicopters, 455 (+14) operational and tactical level UAVs, 103 (+1) cruise missiles, 13 (+0) ships / cutters, 2,157 (+20) trucks and fuel tankers, and 43 (+0) units of special equipment.
In the past day, the greatest losses were inflicted on the enemy in the Sloviansk, Kryvyi Rih, and Zaporizhia directions.