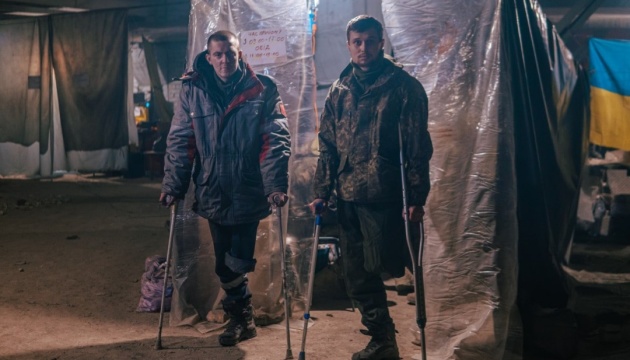 Mariupol garrison "has fulfilled its combat mission" - General Staff
Commanders of units defending the Azovstal steelworks, Ukraine's last stronghold in Mariupol, received an order from the highest military command "to save the lives of personnel."
That's according to a statement by the General Staff of the Armed Forces of Ukraine, Ukrinform reports.
"The Supreme Military Command has ordered the commanders of the units stationed at Azovstal to save the lives of personnel. An operation is underway to rescue the defenders of Ukraine blocked on the plant's premises," reads the statement issued overnight Tuesday.
The General Staff recalled that 53 severely wounded servicemen had been evacuated to a medical facility in Novoazovsk, while another 211 defenders had been taken to Olenivka through a humanitarian corridor and are set to be returned to the government-controlled territory through a POW exchange procedure.
"Measures to rescue defenders who remain at Azovstal are underway," the General Staff said.
In the late hours of Monday, Azov Regiment Commander Denys Prokopenko released a video statement where he told of his soldiers' successful effort to distract the overwhelming enemy forces, which allowed other units of Ukraine's defense forces to regroup.
"The main thing is to realize whether all the risks have been calculated, whether Plan B has been worked out, whether you have fully dedicated yourself to this plan, which should combine fulfilling the task and ultimately preserve lives and health of personnel," Prokopenko said.
"War is art, not science," Prokopenko stressed.
"This is the highest level of command and control of troops, especially when your decision is approved by the top military leadership," said the commander of the Azov Regiment.
As reported, the evacuation of Ukrainian defenders from the Azovstal plant began on Monday.
Reuters reported that about a dozen of buses drove out of the Azovstal premises, which could carry Ukrainian servicemen. The exact number could not be confirmed.
It was added that, according to various estimates, nearly 600 servicemen remained at the plant, including dozens of WIAs.
On May 7, Deputy Prime Minister and Minister for the Reintegration of the Temporarily Occupied Territories, Iryna Vereshchuk. said that all civilian women, children, and the elderly had been evacuated from Azovstal.
There were about 600 severely wounded soldiers in the shelters of the besieged steelworks, who could not receive proper medical assistance due to lack of medicines and doctors. The plant's premises were constantly shelled by the invaders using all kinds of weapons.
Ukraine has offered Russia to exchange severely wounded Azovstal fighters for Russian POWs, according to the procedure for prisoner exchange.