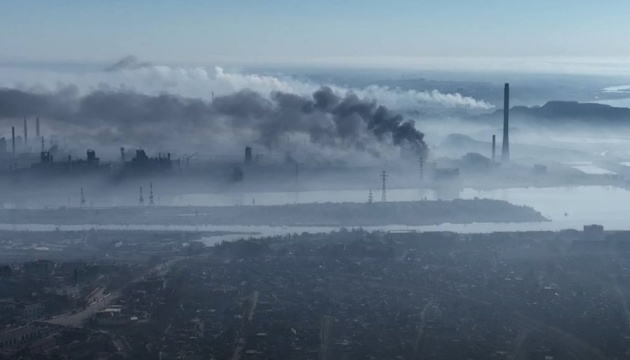 Fifteen female soldiers and health workers die at Azovstal
Fifteen young women – military and health workers – died at the Azovstal steelworks in Mariupol.
"Fifteen young women – military and health workers – have already died at Azovstal. This is a tragedy for the entire Ukrainian people. These are the best of us, real heroes. We must make every effort to save them," Mariupol mayor Vadym Boychenko posted on Telegram.
He noted that last Saturday the Mariupol City Council members called on the Ministry of Foreign Affairs of Ukraine to use all international instruments to save Ukrainian defenders and carry out the procedure of extraction.
According to the mayor, young Ukrainian families die at Azovstal as the Ukrainian defenders have been holding the perimeter of the steelworks for more than two months. The entire families stay at the steelworks and together they hold the defense, support each other and together, unfortunately, they die.
"We will fight for the lives of our military as they are fighting for our city," Boychenko added.
He published a video of the current situation at Azovstal. The invaders continue to drop heavy bombs on it.
As a reminder, the aggressors keep trying to enter or block the exits from the Azovstal bunkers. The information that Ukrainian defenders "came out with a white flag" is untrue.
There are about 600 seriously wounded soldiers in the bunkers of the blocked steelworks. They cannot get proper care due to a lack of medicines and doctors. The Russians constantly shell the Azovstal territory with all kinds of weapons and make assault attempts.
Ukraine involves a number of world countries, including Israel, Switzerland, Turkey, and Finland, in the process of negotiations with Russia to evacuate service members from Azovstal.
Deputy Prime Minister – Minister for Reintegration of the Temporarily Occupied Territories of Ukraine Iryna Vereshchuk stated that the special evacuation operation from Azovstal would begin with the rescue of severely wounded service members and would be conducted in several stages.
Earlier, Ukraine urged Russia to exchange severely wounded Azovstal fighters for captured Russians.
ol