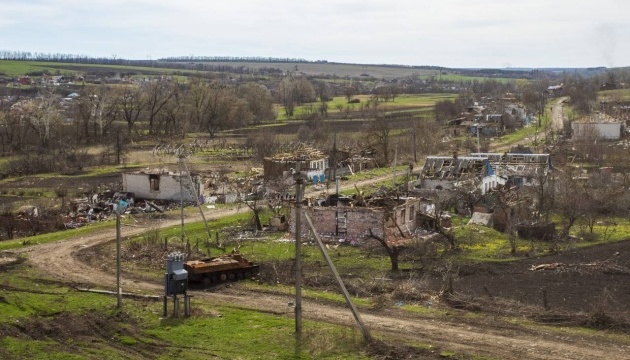 Russia spreading fake report of 44 civilians killed by Ukrainian shelling in Izium
Russian propaganda is circulating a fake story claiming that 44 residents of Izium, whose bodies were recently removed from under a rubble of an apartment block, were killed in shelling by the Armed Forces of Ukraine.
This was announced on Facebook by Deputy Mayor of Izium, Volodymyr Matsokin.
"Advice to Russian propagandists: if you're making up fake stories, at least try not to use a sh*t recipe. According to official data of the General Staff of the Armed Forces of Ukraine, Izium was occupied on April 1, 2022. It was occupied by ruscist troops. So what about April 9? I'll tell you, the destruction of apartment blocks on Khlibozavodska and Pershotravneva streets took place on March 8-9, 2022. This was done by the Russian army barbarians during the capture of the city. About 60 people were killed, 44 bodies were found. Attempts to destroy the truth with such fake reports will lead to nothing but punishment," Matsokin wrote.
In the story designed by Russian propagandists, Izium resident Serhiy Shtanko, 33, speaks on camera. The gray-haired man notes that at first, the windows and doors exploded, and on April 9, at 9:00, they allegedly shot from a tank and hit the ceiling.
When asked by someone behind the camera: "From what side did the strike come? From the Ukrainian Army or Russia?" Shtanko answers: "They were hitting from the side of the hunters' store, some 200 meters away. Who that was, I do not know. This could be either side. But it was our guys."
According to the man, a mere seven people survived the attack.
Izium City Hall is convinced that Shtanko was forced to give such an interview at gun-point.
As Ukrinform reported earlier, on May 10, the bodies of 44 civilians were retrieved from under the rubble of a five-story apartment block in the temporarily occupied city of Izium, Kharkiv region. Among the dead are two families of five and two more – families of three. The head of regional military administration, Oleh Syniehubov, emphasized that the locals try to clear the rubble in-between enemy strikes, with no special equipment at hand.
On March 6, the aggressors launched intense shelling and air strikes on the city of Izium, as a result of which many apartment blocks were badly damaged or destroyed. All critical infrastructure in town has been destroyed, too.
Photo: Obrii Iziumshchyny, Facebook