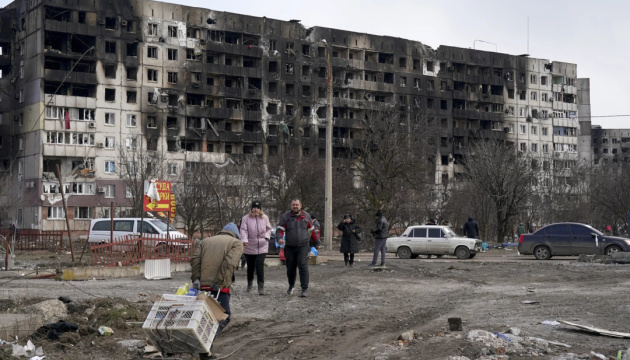 What Mariupol looks like now: terrible conditions in which its residents survive
The residents have little access to drinking water in the blocked Mariupol, while all the basements of residential buildings are flooded.
"Mariupol. Right now. Humanitarian situation. Water. All basements are flooded, streets have turned into rivers. The water utility workers have received diving equipment and make futile attempts to repair breaches in the basements. The residents still have little access to drinking water. Majority of Mariupol residents have to walk a long way to water delivery points (barrels or water tanks), but there is not enough water there," Petro Andriushchenko, adviser to Mariupol mayor, posted on Telegram, Ukrinform reports.
Apart from drinking water shortage, there is not enough food and cash for Mariupol residents.
Andriushchenko published a short video taken in Mariupol streets, where one can see the terrible conditions in which people live and survive today. Everything is broken, smashed, and littered.
"About 150,000-170,000 Mariupol residents remain hostages of the occupying power and have almost no chance to flee to Ukraine," the adviser to Mariupol mayor added.
Mariupol experiences one of the biggest humanitarian catastrophes provoked by Russian aggression. The city has no normal energy, water, and gas supply. The Mariupol mayor said that up to 20,000 civilians had died in the city since the Russian invasion.
ol