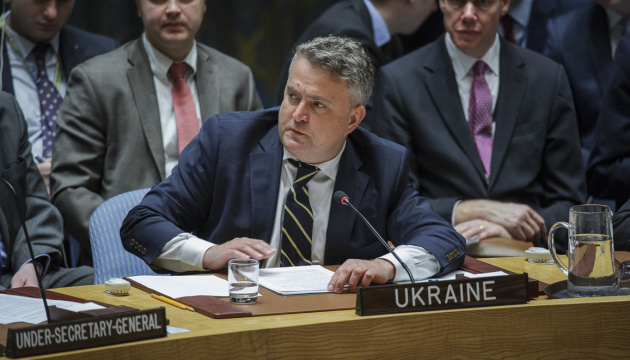 Ukraine calls on UNSC to evacuate wounded servicemen from Azovstal
Ukraine has called on the UN Security Council and Secretary General Antonio Guterres to make every effort to ensure the evacuation of wounded servicemen from the Azovstal steelworks.
That's according to Ukraine's Permanent Representative to the United Nations Serhiy Kyslytsia, Ukrinform's own correspondent in New York reported from the UN Security Council meeting.
"The defenders of Mariupol have already done the impossible. They stopped the overwhelming russian troops for more than 3 months. Their contribution to the disruption of the Russian blitzkrieg plans can't be overestimated," the statement reads.
The ambassador noted that many of the Ukrainian defenders remaining at the Azovstal stronghold have sustained grave injuries and have no access to the required medical assistance.
Therefore, Ukraine's Permanent Representative to the UN concluded, the evacuation operation should be continued.
"We call on the Security Council and the Secretary General to invest further efforts to ensure the evacuation of the sick and wounded from the Azovstal area in accordance with international humanitarian law," Kyslytsia said.
The ambassador stressed that the wounded must be brought to safe places, where their right to life will be guaranteed: "Russian captivity is not such a place for the servicemen from Azovstal."
He recalled that the death toll among the Mariupol residents over the past months – about 20,000 – is double that caused during World War 2 by German Nazis, who killed 10,000.
As Ukrinform reported earlier, Ukraine has offered Russia to exchange severely wounded Azovstal defenders for Russian POWs according to standard rules for such swaps.
According to Deputy Prime Minister, Minister for Reintegration of the Temporarily Occupied Territories Iryna Vereshchuk, it is currently impossible to unblock Azovstal by military means. Azovstal's defenders do not intend to surrender, while the Russians do not agree to the "extraction" procedure.
Vereshchuk said on May 7 that all women, children, and the elderly had been evacuated from the Azovstal metallurgical plant, and that part of the Mariupol humanitarian operation had been completed.
The Russians are constantly shelling the premises of the steelworks with all kinds of weapons, including warplanes and naval artillery, as well as repeatedly trying to storm the area. The Ukrainian military, including several hundred wounded, is defending the site.