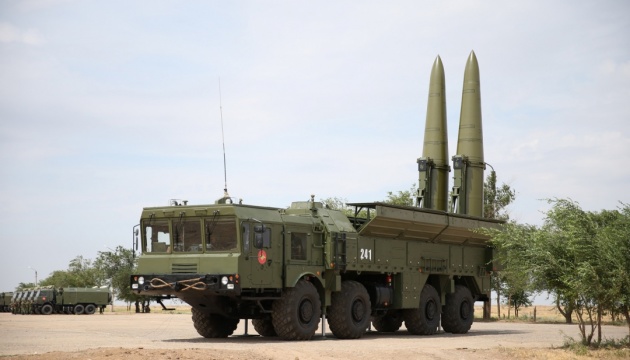 Use of nuclear weapons by Russia would lead to WW3 - German MP
The use by the Russian Federation of nuclear weapons in its ongoing war against Ukraine would lead to World War 3.
The opinion was voiced by German MP Gregor Gysi, who spoke with Guildhall, Ukrinform reports.
"If Russia uses a nuclear weapon against Ukraine, with or without a resolution of the UN General Assembly, all of humanity will be affected and it will lead to WWIII. So I'm assuming and hoping that it won't come to that," Gysi said.
The statement came as a response to a question of whether the UN General Assembly should adopt a resolution providing that, if Russia nukes Ukraine, this would mean declaring a war against all humanity.
"I would react to the threat in such a way that Russia would cause World War III and go under itself," Gysi concluded.
As reported earlier, Russian Foreign Minister Sergei Lavrov during an informal meeting with the CIS diplomats once again suggested that Russia could use nuclear weapons, not ruling out such an option.
President Volodymyr Zelensky of Ukraine warned that the world should prepare for a nuclear strike by the aggressor power.
On the air of the Russia 1 TV channel, Russian propagandist Olga Skabeeva and MP Alexei Zhuravlev discussed how many seconds it would take for the Sarmat intercontinental ballistic missile to reach the capitals of Great Britain, Germany, and France – the nations supplying weapons to Ukraine.
Earlier, the head of the Center for Defense Reforms, coordinator of the interagency platform for countering hybrid threats, which operates within the framework of Ukraine-NATO cooperation, Oleksandr Danyliuk also stated that, in response to confirmation of intentions to use nuclear weapons against Ukraine, Russia should be excluded from the UN Security Council, and the UN General Assembly should immediately adopt a resolution that such a step on the part of the Russian Federation would be a declaration of war on humanity.
As reported previously, former Commander of the Estonian Defense Forces, MEP, Lieutenant General Riho Terras believes the UN General Assembly should adopt a resolution that the use of nuclear weapons by Russia against Ukraine will be seen "as a declaration of war on all mankind."
Ex-Minister of Defense of Lithuania, MEP Rasa Juknevičienė, shares the idea that Russia's use of nuclear weapons would mean they're at war with the whole world.
Also, the head of the Foreign Affairs Committee of the Latvian Parliament, Atis Lejiņš, supported the initiative on the need for the said UN resolution to be adopted.
A Member of the House of Lords of the British Parliament, former British Foreign Secretary David Owen, believes the initiative to discuss at the UN General Assembly the recent Russian threats to use nuclear weapons is worth looking into.