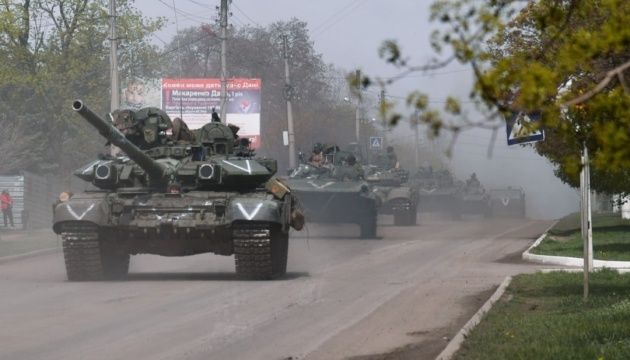 Enemy forces continue offensive effort in Ukraine's east - General Staff
The Russian forces pursue offensive operations in Ukraine's Eastern Operational Zone in order to establish full control over the territory of Donetsk and Luhansk regions and maintain the land corridor between these territories and the occupied Crimea.
The greatest activity of Russian occupiers is being observed in Slobozhansky and Donetsk directions, the General Staff of the Armed Forces of Ukraine reported in a morning update on May 9.
At the same time, there is a high probability of missile strikes throughout Ukraine.
In the Volyn, Polissia, and Siversky directions, no signs were observed of Russian enemy offensive groups being formed. Certain military units of Belarus are deployed to strengthen positions on the Ukrainian-Belarusian border.
The Russians ran no active offensive operations in the Slobozhansky direction. They focused on regrouping units, replenishing stocks of ammunition and fuel, holding previously occupied positions, and working to prevent the advance of the Ukrainian forces towards the state border.
In the Izium direction, Russia's main efforts focus on preparing for a new offensive in the directions of Sulyhivka - Nova Dmytrivka and Sulyhivka - Kurulka.
In order to prevent the advance of the Ukrainian units, the Russians massed up to nineteen battalion tactical groups on the territory of Russia's Belgorod region. The transfer of personnel and military equipment to replenish invasion units that have suffered significant losses in Ukraine is underway.
In the Donetsk direction, the Russians, supported by aircraft and artillery, focused their efforts on trying to seize control of the settlements of Rubizhne and Popasna, and prepare to continue offensive operations in the settlements of Siversk, Sloviansk, Lysychansk, and Avdiyivka. They have increased firepower and are trying to penetrate Ukraine's defenses.
In the Tavria direction, the Russians are carrying out demonstrative maneuvers to bind Ukrainian troops, while improving the logistics system.
No active hostilities were observed in the South Buh area. The enemy focused on shelling the Ukrainian positions using artillery and multiple rocket launchers.
In the temporarily occupied territory of Zaporizhia region, cases were noted where IDs of the local residents were seized for no good reason. The people are told they will have their IDs back once they take part in ceremonial events on the occasion of Victory Day.
On the territory of the temporarily occupied Autonomous Republic of Crimea, the Russians were actively preparing for Victory Day parades.
The situation in the Transnistrian region of the Republic of Moldova hasn't changed. Local armed formations and units of the Russian task force remain in full combat readiness.
In the past day, Ukraine's air defense units and Land Forces hit ten air targets, including six Orlan-10 unmanned aerial vehicles, a Forpost UAV, and three cruise missiles.
In Donetsk and Luhansk regions, the Ukrainian forces successfully repulsed six enemy attacks, destroying 20 tanks, an artillery system, 28 armored combat vehicles, a special armored vehicle, and five military trucks.