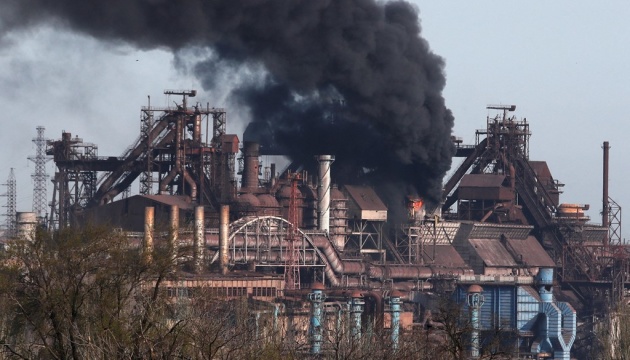 Azovstal defenders tell of critical situation with wounded
The situation at the Azovstal metallurgical plant has become critical as wounded soldiers are dying with no proper medical assistance available.
This was stated in an interview with Channel 24 by Deputy Commander of the Azov Regiment, Captain Sviatoslav Palamar, Ukrinform reports.
Currently, almost 600 servicemen require medical assistance, which they are unable to receive, the deputy commander says.
"The situation is difficult, critical. There are not enough medicines. We no longer have surgical tools. There is no opportunity to provide qualified medical care," he said.
Palamar says that the exact number of fallen soldiers remaining under the rubble remains unknown.
"I won't announce the number of KIAs. Believe me, we are talking hundreds of Ukrainian servicemen. About 600 are wounded. But this figure is growing every day, as well as the number of those killed. We do not even know how many bodies remain under the rubble. I believe that the Russian side also needs to take the bodies of their soldiers. This requires a ceasefire and an agreement between the two sides to collect the bodies of the fallen forces. It's getting warm outside. The bodies are starting to decompose and poison everything," he said.
At the same time, the deputy commander suggests, now that the evacuation of civilians from Azovstal has been completed, Russian attacks will further intensify. Over the last night, the defenders counted more than 25 sorties of enemy bombers.
Palamar said that on May 9, the occupiers might make additional attempts to seize the site. Now they continue to pummel the plant, employing aircraft. The assault effort is also underway. In general, the military is ready for even greater provocations and will fight as long as possible.
As Ukrinform reported earlier, the soldiers with the Azov Regiment killed about 2,500 Russian soldiers and destroyed more than 60 tanks in the battles of Mariupol.