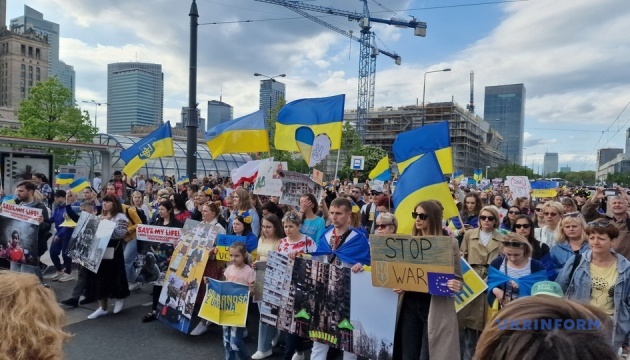 Thousands rally in Warsaw demanding rescue for Mariupol defenders
Thousands of people gathered in central Warsaw on Sunday to protest Russian aggression in Ukraine.
The crowd marched from the Palace of Culture and Science to the Russian Embassy, ​​chanting slogans in support of Ukraine and demanding that the defenders of Mariupol, holding ground at their last stronghold, the Azovstal steelworks, be rescued.
Participants of the action marched, carrying Ukrainian flags and posters such as "Save Azovstal," "Stop Putin", "Stop War,", "Be brave like Ukraine," "We defeated Nazism – now we will defeat ruscism," "Russian warship, go f*** yourself…," etc.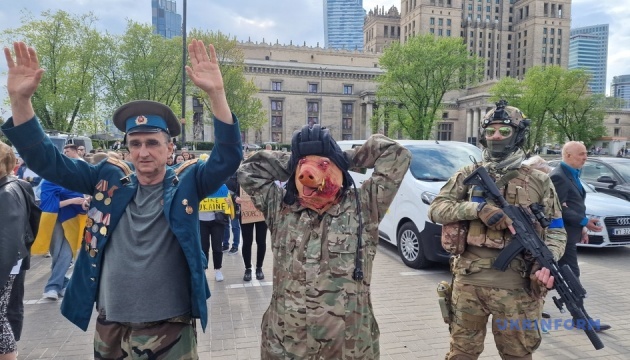 During the march, the song "Oh oh rise up," the piece that has become an unofficial wartime anthem in Ukraine, was heard from the speakers.
As part of the rally, a performance was held where several vehicles were driving at the head of the column. One of them had a model of a missile painted blue and yellow, which the organizers called Neptune, referring to missiles that hit the Moskva Cruiser in the Black Sea. There was also a tractor with a Ukrainian flag and an IFV, which was intended to ridicule the Russian army, whose equipment was seen multiple times being towed by Ukrainian farmers. In addition, as part of the performance, a man dressed as a Ukrainian specops forces soldier was escorting three POWs: two "Russian tankers" with pig heads, and a "Russian officer" with medals.
The participants marched to the Russian Embassy in Warsaw. Outside the diplomatic mission, the activists spoke out, calling on the world to rescue the heroes of Mariupol defense, provide support for Ukraine in its fight against Russian aggressors, and impose even tougher sanctions on Russia.
Among those attending the event were Natalka Panchenko, leader of the Warsaw Euromaidan movement, Marta Lampart with the All-Polish Women's Strike, and Polish MP Michal Szczerba