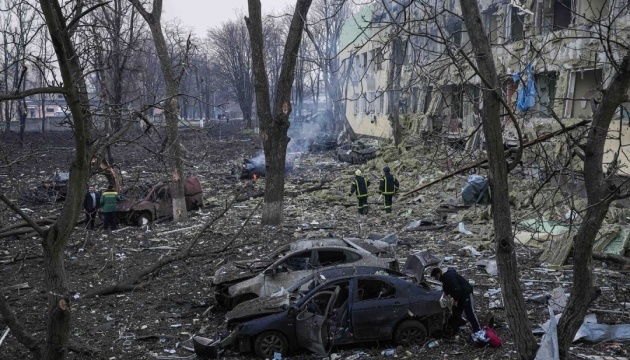 More than 10,000 civilians could be buried in mass graves near Mariupol – Azov
More than 10,000 civilians killed could be buried in mass graves on the outskirts of Mariupol.
"Huge, several hundred meters long mass graves are located on the outskirts of Mariupol as evidenced by satellite images and information from locals. In total, more than 10,000 people could be buried there," Illia Samoilenko, an intelligence officer of the Azov Regiment, said at a press conference, an Ukrinform correspondent reports.
According to him, only civilians are buried in these graves.
As reported, the satellites captured several mass graves in the villages of Vynohradove and Manhush near Mariupol.
Ukrainian Parliament Commissioner for Human Rights Liudmyla Denisova said on May 8 that the number of human victims in Mariupol could far exceed 20,000.
On May 7, the evacuation of civilians – women, children and the elderly who had been hiding in bunkers of the Azovstal steelworks in Mariupol – ended.
The Ukrainian military defends the territory of the steelworks, which is under constant attacks of Russians involving all kinds of weapons, including airplanes and naval artillery. Several hundred wounded Ukrainian servicemen stay in the Azovstal steelworks, and there is an acute shortage of medicines. People are dying in agony.
According to President Zelensky, the Ukrainian authorities now work on diplomatic options to save the Ukrainian military defending the Azovstal.
ol