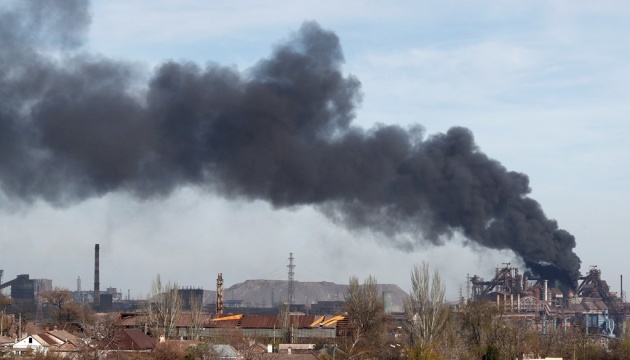 Russian forces resume massive shelling of Azovstal plant after evacuation effort
The invaders have resumed massive strikes on the Azovstal metallurgical plant in Mariupol shortly after a group of civilians sheltering there was evacuated earlier on Sunday.
This was announced on national television by Commander of the 12th National Guard Brigade, Denys Schleha, an Ukrinform correspondent reports.
According to the commander, every day the enemy is pushing harder and harder to seize control of the site.
"When the invaders failed to implement their priority plans, they began destroying the area with heavier weapons. Over the last two days, while the operation to remove the local population from the plant was being carried out, a ceasefire was announced, and two days went peacefully. But as soon as the last civilian (from the group approved for evacuation on Sunday - ed.) left the plant, (soon after that - ed.), the plant came under fire, again, as all kinds of weapons were employed," Schleha said.
Separately, the commander clarified that, according to their estimates, there are still several hundred civilians remaining in the Azovstal bunkers, including up to 20 children.
"We would also really like to see our wounded, about 500 people so far, be allowed out of Azovstal, and we want our fallen comrades-in-arms to be taken away, which is also a very large number," said the National Guardsman.
He stressed that the Ukrainian forces holding the plant would keep performing their tasks till the end.
"The guys have been repelling (the enemy - ed.) for 67 days already and, I believe they have done everything possible and impossible, and continue to do so. And we will fulfill all the tasks set before us and defend our Homeland. But it is necessary to provide an opportunity to complete the effort related to the civilians (the evacuation effort - ed.), to get the wounded and dead out of there, and if possible - to evacuate the garrison personnel," he said.
The first group of about 100 civilians, approved for evacuation from the Azovstal metallurgical plant in Mariupol, which is being continuously shelled by Russian occupation forces, is now heading to the Ukrainian-controlled territory, earlier reports said.
Photo: Sky News