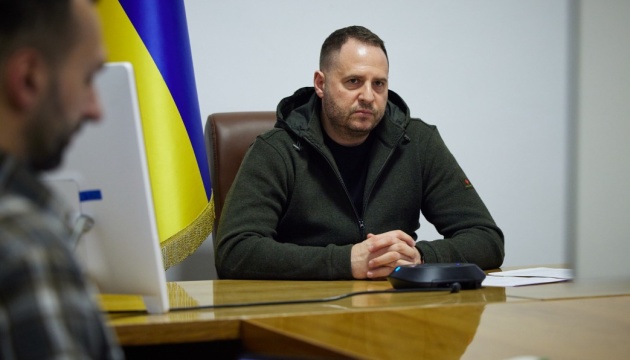 Yermak: Civilians and service members to be further evacuated from Mariupol
Head of the President's Office Andriy Yermak said that today's evacuation of people from the Azovstal plant in Mariupol was just the first stage, and civilians and soldiers would be further evacuated.
"We can already talk about what my team and I were dealing with 24/7 last week. Today we started the evacuation of civilians from the city of Mariupol, in particular from the Azovstal steelworks. People have been hiding there from Russian bombardment for several weeks. As of today, we managed to evacuate more than 100 women, children, and the elderly. We transfer them to Zaporizhzhia," Yermak posted on Facebook, Ukrinform reports.
According to him, "this is just the first stage."
"We will continue to take our citizens and the military out of Mariupol. Indeed, it was a difficult operation and there is still a lot of work ahead, but nothing will stop us," the Head of the President's Office added.
He also noted that the task was under the personal control of President Volodymyr Zelensky, and the team of the President's Office and the Government worked non-stop to fulfill it.
"We thank UN and ICRC for their help. Each of the soldiers and civilians of Mariupol is a hero. Ukraine does and will always do everything possible to save our people," Yermak added.
He noted that the Russians had created a humanitarian catastrophe in Mariupol, continued bombardment but "they will be held responsible for everything later."
Earlier, Davyd Arakhamiya, head of the Servant of the People parliamentary faction, head of the Ukrainian negotiating delegation, and Deputy Prime Minister – Minister for Reintegration of the Temporarily Occupied Territories Iryna Vereshchuk said that 100 civilians had been evacuated today from Azovstal plant in Mariupol.
On April 30, twenty civilians – women and children – were evacuated from the Azovstal plant destroyed by Russian shelling.
About 1,000 civilians and Ukrainian servicemen, including about 600 wounded, still stay in plant's territory.
Mariupol experiences one of the biggest humanitarian catastrophes caused by Russian aggression. The invaders bomb unarmed residents, block the delivery of humanitarian aid, and deport Ukrainian citizens to the depressed regions of Russia.
Soldiers of the Azov Regiment, marines, and motorized riflemen continue to defend Mariupol.
ol