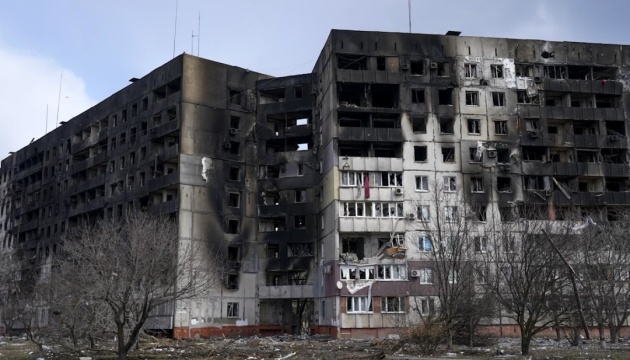 Airstrikes on Azovstal continue in Mariupol, urban firefights underway
In Mariupol, air raids on the Azovstal metallurgical plant do not stop and firefights continue in urban areas outside the plant's management HQ.
That's according to an adviser to the Mariupol city head, Petro Andriushchenko, Ukrinform reports.
"Airstrikes on Azovstal do not subside. No silence, but attempts at the assault (of the premises - ed.) repeat again and again, despite all declarations. The only thing is that reports of the firefights have disappeared from the media space abruptly. At the same time, urban fighting is once again ongoing in the area away from Azovstal's management HQ – up to Ukrainskoho Kozatstva Street (Veselka Park)," wrote Andriushchenko.
The official has noted that the invaders are trying to understand why Putin almost agreed to the evacuation, while not hiding further plans for Azovstal and Ukrainian defenders.
As reported, about 1,000 civilians and Ukrainian servicemen, including almost 500 wounded fighters, remain at Azovstal's premises in Mariupol. Ukrainian authorities urge the Russians to provide an immediate humanitarian corridor to evacuate people from the metallurgical plant.
Russia's aggression has caused one of the most devastating humanitarian catastrophes in Mariupol. The invaders have been bombing unarmed residents and blocking humanitarian aid.
Mariupol Mayor Vadym Boichenko previously said that up to 20,000 civilians had been killed in the city since the start of the Russian invasion. According to the Main Intelligence Directorate of the Ukrainian Defense Ministry, the Russians deployed as many as 13 mobile crematoria in town as the occupiers are working to remove the bodies of slain civilians off the streets. The invaders have been putting people in filtration camps to identify and eliminate all potential witnesses to their atrocities.
It is believed that about 120,000 civilians remain in besieged Mariupol to date