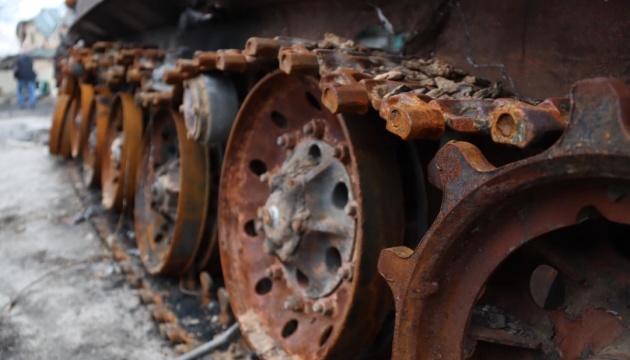 Mariupol defenders spot V-marked tanks used by Russians when committing atrocities in Bucha
Mariupol defenders have spotted enemy V-marked tanks in the city, which are known to have been used by the Russian military who committed atrocities in Bucha, Kyiv Region.
The relevant statement was made by the Azov Regiment on Twitter, an Ukrinform correspondent reports.
Захисники Маріуполя виявили в місті ворожу техніку, зокрема російські танки з позначкою «V».

Це означає, що в місто було перекинуто підрозділи окупантів, які чинили звірства в Бучі: вбивали, ґвалтували, закатовували цивільне населення. Зараз Путінська орда продовжує нищити місто pic.twitter.com/PUHy1DKqkm

— АЗОВ (@Polk_Azov) April 21, 2022
The Azov Regiment posted a video depicting one of such tanks on fire.
"Mariupol defenders have spotted enemy military vehicles in the city, namely the Russian tanks marked with 'V'. Hence, the occupiers' units that committed atrocities in Bucha – murdered, raped and tortured civilians to death – were deployed to Mariupol. Right now, Putin's horde continues to commit devastating uncontrolled crimes in the ruined city with about 100,000 civilians remaining here," the report states.
A reminder that the Russian armed aggression has caused one of the worst humanitarian catastrophes in the city of Mariupol. Russian invaders are bombarding unarmed civilians and blocking the delivery of humanitarian aid.
About 120,000 civilians are remaining trapped in Mariupol. The Ukrainian side is making every effort to evacuate people.
mk