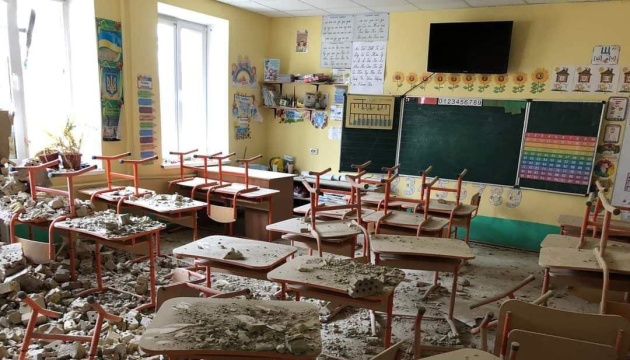 In Ukraine, 208 children already killed by Russian invaders
Since the beginning of the full-scale invasion, the Russian occupiers have left 208 Ukrainian children killed.
That's according to the Office of the Prosecutor General, Ukrinform reports referring to the OPG's Telegram channel.
As of the morning of April 21, more than 584 children were affected in Ukraine as a result of Russian full-scale armed invasion, including 208 children killed and 376 who suffered injuries of varying severity.
The data is being regularly updated as calculations are complicated in the zones of active hostilities and in the temporarily occupied territories.
Most children were affected in Donetsk region (119), Kyiv region (113), Kharkiv region (91), Chernihiv region (57), Kherson region (44), Mykolaiv region (41), Luhansk region (36), Zaporizhia region (25), the city of Kyiv (16), Sumy region (16), and Zhytomyr region (15).
On April 20, two people were killed, one of them a teenage boy, 16, by an artillery strike in a private household in the village of Nova Zorya, Bilozersky District, Kherson region.
On the same day, a girl, 11, was injured in shelling targeting Mykolaiv's civilian infrastructure.
A CIS team documenting Russian atrocities committed in Borodianka, Kyiv region, before it was liberated discovered a body of a girl, 15, who appears to have suffered a fatal lung injury.
In the first half of March, in the village of Klavdiyevo-Tarasovo, Bucha district, Kyiv region, the Russian military opened fire on a civilian car with a man in it along with his two daughters, aged 7 and 11. The children were seriously injured. The younger girl died, while the elder was rescued.
On March 4, a father and his daughter, 7, were injured in enemy shelling of the village of Horenychi, Kyiv region, according to local law enforcers
On March 13, a boy, 13, was injured by a Russian strike on Kreminna in Sieiverodonetsk district, Luhansk region.
As a result of the bombardments and shelling, a total of 1,141 educational facilities were hit, 99 of which were completely destroyed.
As reported by Ukrinform, the Office of the UN High Commissioner for Human Rights formally recorded 2,224 civilian deaths and 2,897 injuries as a result of the Russian invasion of Ukraine.
Photo: AA