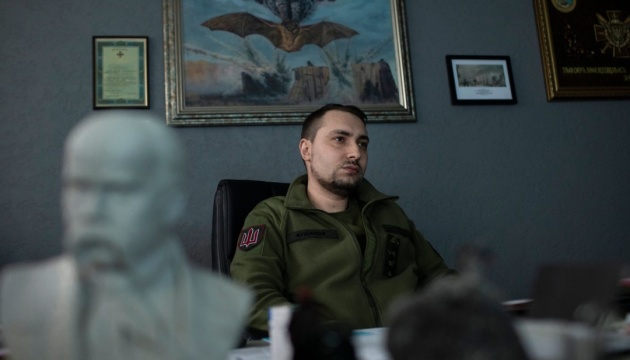 Ukraine's top military spy comments on tactical mistakes of "world's second-strongest army"
Kyrylo Budanov, head of the Defense Ministry's Main Intelligence Directorate, believes that Russia's offensive on Kyiv failed due to the incompetent approach of the Russian command to conducting such a large-scale operation.
That's according to Budanov's interview with Der Spiegel, Ukrinform reports citing the defense ministry's press service.
When asked, why Russia decided to withdraw its troops from Kyiv region, the head of Ukraine's military intelligence said that the occupying forces did not just pull back, they were pushed out from Kyiv region by Ukraine's Armed Forces.
The push started when the Army regained control of the town of Irpin. This threatened to cut off part of their forces in Kyiv region. The Russians quickly realized that in just a few days, they found themselves in the same situation that they like to inflict on the enemy – encircling and dividing them. So they decided to retreat.
"I am amazed at how incompetently and carelessly Russian commanders have approached such a major operation. If they really believed that they could do it in three days - and, as far as we know, they absolutely believed that they could - then the Russian leadership is probably wondering whether their generals are competent at all. They took their wishful thinking for reality," Budanov said.
He also commented on the combat losses among the Russian military command.
"We asked ourselves this question. And we found only one answer: the extremely low professional level of their generals. One of the reasons for this is nepotism in the Russian army, sham generals, relatives of some officials who don't meet the performance criteria, unready to solve tasks. Take the Chornobaivka case (where the Ukrainian forces more than a dozen times annihilated enemy aircraft at a local airfield after the Russians repeatedly tried to set up a base there)! This is a monument to idiocy," said the intelligence chief.
Asked what Russia's strategic goals are and how they have changed, the head of Ukraine's defense intelligence said that the goal of military aggression remained unchanged: an operation to destroy Ukraine's statehood. Ukraine must cease to exist as a state. This is their main goal, and Putin hasn't given up on his plans. How exactly they would achieve this goal, Russia doesn't fully understand, and it's also characteristic of their tactics. But they wanted, firstly, to plant a Russian-controlled government here in Kyiv, and secondly, to put Ukraine back into the Russian sphere of influence forever. This didn't happened and can't happen, especially after the atrocities and war crimes witnessed by the whole world, said the head of Ukrainian intelligence.
Asked what weapons Ukraine needs to repel Russian aggression, Major General Budanov said the country needs artillery systems, such as the German army has. The Ukrainian military also needs tanks due to heavy losses of armored vehicles. The rest are standard equipment: anti-aircraft and electronic reconnaissance systems.