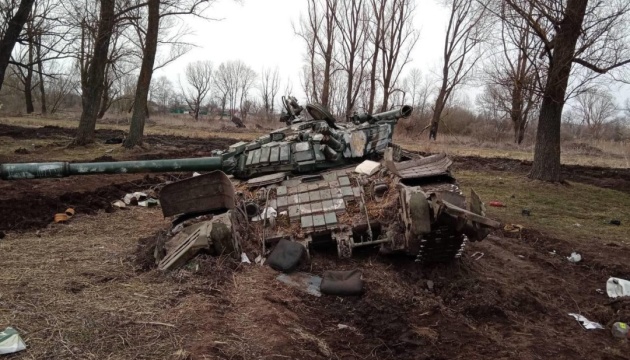 JFO troops repulse 8 attacks, destroying 11 units of equipment and artillery system
On April 13, the Joint Forces units repulsed eight attacks of Russian invaders in eastern Ukraine.
"The servicepersons of the Joint Forces grouping successfully repulsed eight enemy attacks over the day. Ukrainian defenders destroyed one tank, four armored personnel vehicles, six vehicles, one artillery system of the enemy," the press service of the Ministry of Defense posted on Telegram.
As reported, the troops of the Russian Federation lost about 19,800 personnel, 739 tanks, 1,964 armored personnel vehicles, 358 artillery systems, 115 MLRS, 64 anti-aircraft systems, 158 aircraft, 143 helicopters, 1,429 vehicles, 7 boats / cutters, 76 fuel tanks, 132 UAVs of operational and tactical level, 25 special equipment units, 4 mobile SRBM systems in Ukraine from February 24 to April 13
Data are being updated. The calculation is complicated by the high intensity of hostilities.
ol