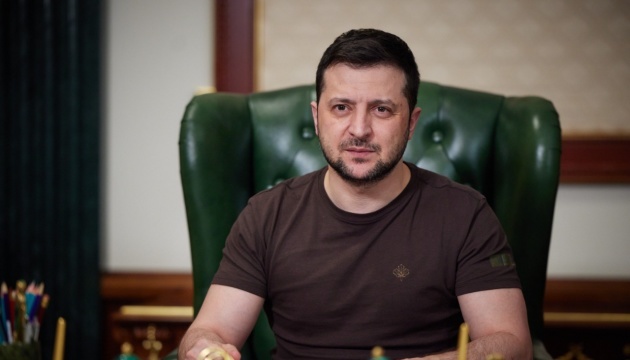 President Zelensky: Our cities and villages will be liberated not only by force of arms but also morale
The Ukrainian cities and villages, which have been temporarily occupied, will be liberated, and not only by force of arms but also by force of morale.
The relevant statement was made by Ukrainian President Volodymyr Zelensky in his video address, an Ukrinform correspondent reports.
The President of Ukraine once again expressed gratitude to those, who are defending Ukraine and the Ukrainian statehood against the enemy, including civilians.
"We are also proud of all our people who take to the streets despite the occupation. Who are protesting. Who are expelling the occupiers as best they can. We are proud of all our people! That is why it should always be emphasized that if our cities and villages are occupied, it is only temporary. And they will definitely be liberated. They will be liberated by our heroes. And not only by force of arms, but also by force of morale," Zelensky told.
In his words, Ukrainian men and women demonstrate morale almost daily in the cities and villages, which have been occupied by Russian troops and have not yet been liberated by the Ukrainian Army. Nevertheless, it is necessary to continue to fight, protest and defend the Ukrainian statehood, Zelensky stressed.
"And it is necessary to punish collaborators. Let them make 'KhNR' somewhere in Khakassia, not in our native Ukrainian Kherson," the President of Ukraine added.
A reminder that, on February 24, 2022, Russian President Vladimir Putin initiated a full-scale invasion, starting a war. Russian troops are shelling and destroying the key infrastructure facilities, launching missile and air strikes on residential areas in Ukrainian cities and villages, torturing and murdering civilians.
Some settlements in southern and eastern Ukraine are now controlled by Russian forces. Local residents hold peaceful rallies against the Russian aggressor there. Russian troops use force against civilians and abduct people within the occupied territories.
Photo: Office of the President of Ukraine
mk