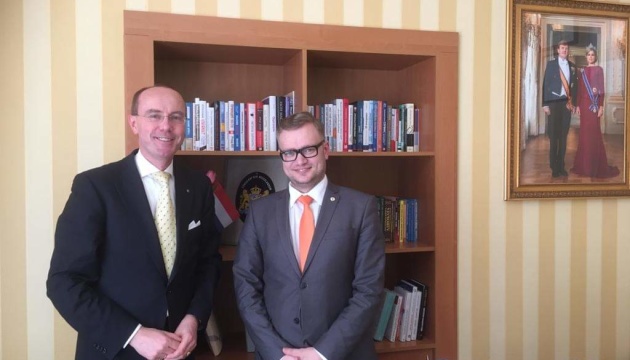 Call for Dutch PM: It's time to choose between black and white, good and bad
The Netherlands should take a firmer and clearer stance in supporting Ukraine, including in its EU integration aspirations, the Ukrainian and Dutch honorary consuls wrote in an open appeal to the Dutch prime minister and parliament.
In 2014, Russia started a hybrid war in the Donbas and Crimea. Peace, freedom and security have been taken for granted for generations. The new Russian invasion in 2022 is a turning point in history. Good leaders speak up, have a vision. As honorary consuls of a country at war, we cannot remain silent now. We speak out. We are impressed by Ursula von der Leyen, President of the European Commission who, on Day 3 of the war, spoke out in favor of Ukraine's accession to the European Union. "In the long run, they do belong to us," said von der Leyen when asked about Ukraine's possible accession to the EU. "They belong to us and we want them to be part of it." This is a vision of Europe and a heart among belt for all those Ukrainians who fight for the European values ​​that we consider normal: freedom, security and democracy.
Dutch Prime Minister Rutte can take an example from Von der Leyen and Zelensky by having a clear vision as a leader for the future of Europe, especially in times of need. Rutte was not clear with his statements: "Not a good discussion to discuss this now. A very time consuming, complicated and complex process. That could take decades. A very long-term process." Nowhere did Rutte give the people of Ukraine the hope or perspective of his support for accession to the EU. A missed opportunity. Of course, Ukraine must meet strict accession conditions, for which it can use all the help. Stand on the right side of history and be clear that you support the ambition: a democratic and independent Ukraine as a member of the EU and the European family. And as von der Leyen said, "over time". We call on Prime Minister Rutte to state clearly that he supports the ambition of 43 million Ukrainians to join the EU from his heart and that he will also make every effort to ensure that Ukraine receives EU candidate status. We call on parliament and all Dutch people to support this wholeheartedly.
The reconstruction of Ukraine will take place after the war. This war must be ended as soon as possible. Acting hard towards Russia is what helps. "We must put a stop to Russian aggression, Putin's aggression," Rutte said in parliament. President Zelensky says from Kyiv: "It is time to make a choice, it is time for black or white, the good and the bad." It's time to choose sanctions that really force Russia to end the war. The Netherlands can do much more. The Netherlands is the gateway to Europe, close all Dutch ports and waterways for ships under the Russian flag or with a Russian owner (UBO). With this we also deny Russian ships access to the German hinterland and the ports of Antwerp and Ghent. Do not dawdle, do not seek excuses, do not wait for Europe. As a guide country, the Netherlands can decide this independently. Don't wait a day longer. Close the ports now! In addition, it is important to disconnect additional Russian banks from SWIFT, such as Sberbank and Gazprombank. Russia should be forced much harder to end this war of annihilation. The freezing of 80 billion euros in tax evasion via all kinds of 'Amsterdam South Axis' constructions must also be tackled much more actively.
The Dutch honorary consul gave a speech on Dam Square Amsterdam, while his Ukrainian colleague was at the same time as his family 1500 km away in his air raid shelter. Both endorse what was said in that speech and you can see and listen to it via social media. Message: Appeasement doesn't work with a dictator and former KGB member. The Kremlin has no respect for that. Don't be afraid of Putin; "Don't be a pussy!"
Andriy Hrynchuk, Honorary Consul of the Netherlands to Ukraine
Karel Burger Dirven, 1st Honorary Consul of Ukraine to the Netherlands
Lviv (UA),'s-Hertogenbosch (NL), March 24, 2022
Photo, from left to right: Honorary Consuls Karel Burger Dirven and Andriy Hrynchuk