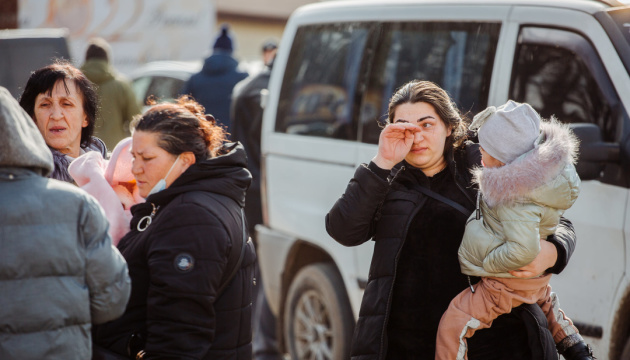 UNICEF: More than half of Ukraine's children displaced after one month of war
One month of war, unleashed by Russia against Ukraine, has led to the displacement of 4.3 million children – more than half of the country's estimated 7.5 million child population.
As UNICEF informs, this number includes more than 1.8 million children who have crossed into neighbouring countries as refugees and 2.5 million who are now internally displaced inside Ukraine.
"The war has caused one of the fastest largescale displacements of children since World War II. This is a grim milestone that could have lasting consequences for generations to come. Children's safety, wellbeing and access to essential services are all under threat from non-stop horrific violence," said UNICEF Executive Director Catherine Russell.
According to OHCHR, 78 children have been killed, and 105 have been injured in Ukraine since the start of the war on 24 February. Yet these figures represent only those reports that the UN has been able to confirm.
"In Ukraine, UNICEF has delivered medical supplies to 49 hospitals in 9 regions – including Kyiv, Kharkiv, Dnipro and Lviv – improving access to healthcare for 400,000 mothers, newborns and children. UNICEF continues to distribute water and hygiene items in communities under siege. In addition, UNICEF is increasing the number of mobile child protection teams working inside acute conflict zones from 22 to 50 and has delivered 63 trucks of lifesaving supplies to support the needs of over 2.2 million people," reads the statement.
In the coming weeks, UNICEF will start emergency cash transfers to the most vulnerable families and establish child friendly spaces in key locations across the country.
As reported, according to the Prosecutor General's Office, 128 children were killed and more than 170 were injured in the armed aggression of the Russian Federation in Ukraine as of March 24.
ol