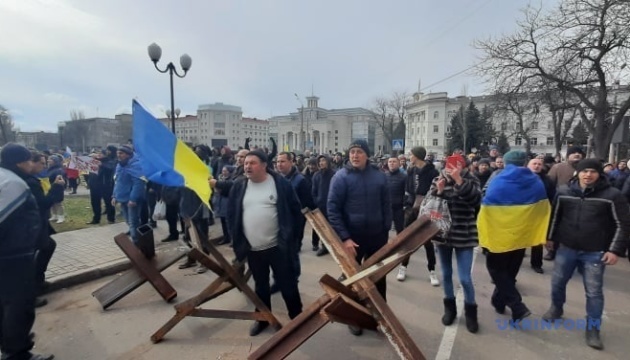 In Kherson region, Russian invaders trying to force locals population to collaborate
In southern Ukraine's Kherson region, Russian forces are trying to force the local population to collaborate.
That's according to the General Staff of the Armed Forces of Ukraine, Ukrinform reports.
As of 06:00, on March 20, the general situation as regards Ukraine's defenses has undergone no significant changes. Ukrainian defenders continue to effectively repel the enemy. Three Russian helicopters were shot down by air defense units.
"Throughout the day, the enemy ran no active offensive operations, focusing on replenishing current losses, restoring partially destroyed equipment, and deploying foreign mercenaries to border areas with Ukraine, solving chronic issues with logistics," the statement said.
The General Staff notes that the Russian invaders are imposing a tough policing regime through terrorist methods, deliberately creating preconditions for a humanitarian crisis in the temporarily occupied territories.
Fourteen trucks carrying foodstuff and medicines left for the Kherson area last night from Apostolovo, Dnipropetrovsk region. The Russian invaders did not allow the humanitarian convoy access to the area, for no apparent reason. In this way, the invaders are trying to force the local population to collaborate. The invaders are circulating leaflets with proposals to reach out to the occupation administration. Citizens are promised that their loan debts will be canceled and that local entrepreneurs will be offered preferences in doing business.
Also, it became known that out of the whole combined detachment of the 331st guards airborne assault Kostroma regiment, operating in the Kyiv direction, only one serviceman survived and is now undergoing treatment in hospital.
Against the background of such circumstances, the command of the Russian Black Sea Fleet is taking urgent measures to replace 130 contracted servicemen with the 810th marine brigade, who decried orders to partake in hostilities, with paratroopers from the 7th assault division. The FSB will be dealing with those who snubbed orders.
In addition, in the temporarily occupied territory of Donetsk region, Russian supervisors announced another wave of mobilization to replenish the 1st Army Corps. The maximum age of those to be drafted has been raised to 65 years. The same is expected in the temporarily occupied territory of Luhansk region, given that trucks filled with soldiers' bodies arrive daily from the operational area of ​​the 2nd Army Corps to the settlements of Luhansk, Sorokine, and Dovzhanske.
The General Staff of the Armed Forces of Ukraine notes that Russian terrorist forces continue to openly violate international conventions on the rules of war. The facts of the use of Ukrainian military uniform for subversive and compromising actions by Russian saboteurs are being recorded en masse. However, the Defense Forces of Ukraine are resolutely eliminating war criminals and mercenaries who invaded Ukraine.
As Ukrinform reported earlier, Russia's death toll as of March 19 stood at about 14,400.