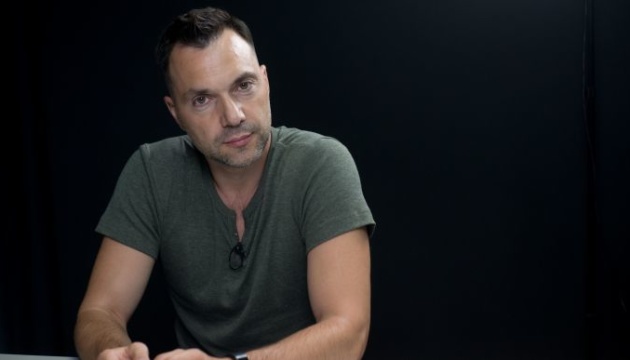 Arestovych: Zelensky insists on recognition of Ukraine's borders as of 1991
The stance of President Volodymyr Zelensky on the war with Russia remains unhindered and fundamental, i.e. the recognition of Ukraine's international borders as of 1991.
This was stressed by Oleksiy Arestovych, adviser to the head of the Ukrainian President's Office, at a briefing on Thursday, an Ukrinform correspondent reports.
"The new topic of powerful special information operations is that Ukraine is allegedly refusing to engage in or losing negotiations. I'd like to remind you that the core position of the Ukrainian president is that Ukraine must be recognized within its international borders as of 1991. This is the first thing. Secondly, everything we agree on should be better than it was before the war," said the Presidential Office head's adviser.
The official has assured that Ukrainians have no reason to worry. "We are taking care of both the country and the people because we stand with you – the country and the people. We will never, never give up our national interests," said Arestovych.
On March 16, the the Financial Times published an article alleging that Ukraine and Russia were discussing a 15-point peace deal, including an alleged refusal by Ukraine from joining NATO in exchange for security guarantees from allies and withdrawal of Russian troops from Ukraine.
Mykhailo Podoliak, an adviser to the head of the President's Office and member of the Ukrainian delegation at the ongoing negotiations, said that the Financial Times had published a draft disclosing the Russian side's proposals. He stressed that the Ukrainian side had its own positions and the only thing that had been confirmed at this stage was a ceasefire, Russia's withdrawal, and security guarantees from a number of foreign partners.