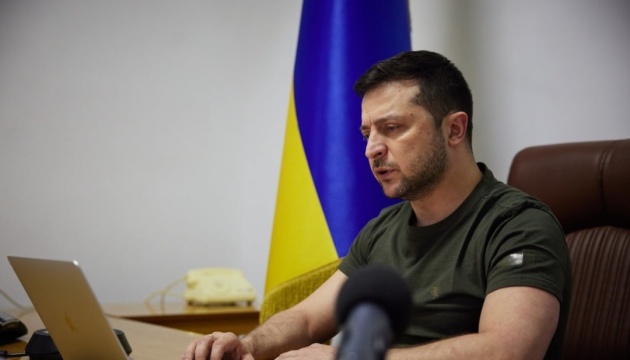 If West claims unity against Nazis, sky must be closed over Ukraine
If Western powers are united in fighting off the Nazis, they need to close the skies over Ukraine to "stop this terror."
That's according to President Volodymyr Zelensky, who spoke in an interview with Sky News, Ukrinform reports.
"If you claim unity against the Nazis and this terror, you must close it (the sky over Ukraine - ed.). ... Don't expect me to ask you about this several times, a million times. Close the sky. Close the sky and stop this bombing (by the Russians - ed.)," the Ukrainian leader said.
Asked about the West's concerns about a potential escalation and their direct confrontation with Russia, which many fear would make the situation worse, the President said:
"Worse for whom?" For our families? No. For them? Who knows? No one knows. However, we know that things are very bad right now, while it can be too late in the future. Believe me, if this (bombing of peaceful cities - Ed.) drags on, you will see that they (West - ed.) will close the sky (over Ukraine - ed.), But we will lose millions of people," added Zelensky.
According to the President, if World War 3 begins, only then will the West introduce a no-fly zone over Ukraine.
"But it will be too late then," Zelensky added.
The head of state said that even if Russian forces manage to occupy Ukraine, they will definitely not be able to defeat the Ukrainians.
Zelensky stressed that his country could not stop the war against Russia on its own, so Western powers must act now until it is "too late."
On February 24, Russian President Vladimir Putin declared war on Ukraine and launched a large-scale invasion. Russian troops have been killing civilians, shelling and destroying key infrastructure, and their missiles have been hitting Ukrainian households.
Martial law was imposed in Ukraine and general mobilization was announced.