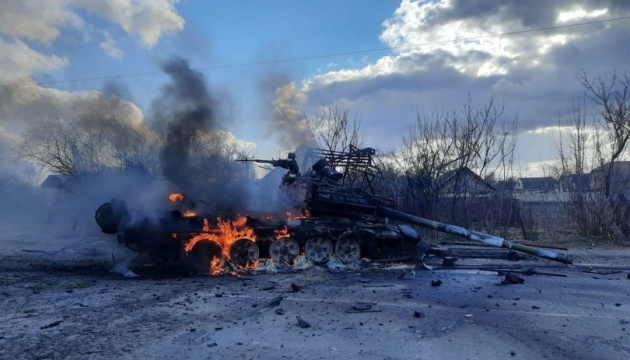 Russian invasion update: Russia's attempt to break into Chernihiv fails
The situation regarding the Russian invasion
An attempt to break into Chernihiv city, northern Ukraine, failed. The Armed Forces of Ukraine shot two and captured several more enemy tanks.
"An attempt to break into Chernihiv failed. Minus 2 enemy tanks. Believe in the Armed Forces!" the Operational Command "North" posted on Facebook, Ukrinform reports.
It is noted that soldiers of the Armed Forces of Ukraine also seized several Russian tanks near Chernihiv. Now they will serve the good of Ukraine.
The military write that the local population is helping them beat the invader. People make Molotov cocktails for Russian "brothers", drain fuel from gas stations, and destroy railway bridges.
As reported, Russian troops fired Grad rockets on Chernihiv city today. Street fights have been ongoing in the city since the morning. Window-panes fly out under explosions. In the morning, Chernihiv Mayor Vladyslav Atroshenko called on residents to prepare for street fights and help the Ukrainian military.
As reported, on February 24, the head of the aggressor country, Vladimir Putin, announced the launch of a special operation in Ukraine. After that, Russian missiles struck a number of Ukrainian cities, and military facilities of the Armed Forces of Ukraine were attacked.
On the morning of February 24, the Verkhovna Rada approved a decree of President Volodymyr Zelensky on the imposition of martial law throughout Ukraine.
ol