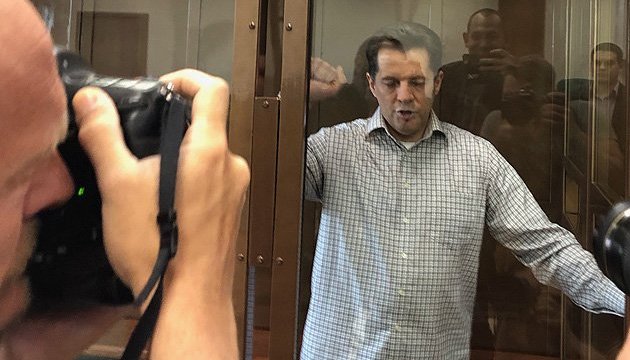 European Alliance of News Agencies calls for Sushchenko's speedy release
The Board of the European Alliance of News Agencies (EANA) calls for the speedy release of Ukrinform journalist Roman Sushchenko, who was sentenced to 12 years of imprisonment in a high-security penal colony in Russia.
The EANA Board said this in a statement signed by EANA President, CEO and Editor-in-Chief of Sweden's TT News Agency Jonas Eriksson and EANA Secretary General Erik Nylen, which was obtained by Ukrinform.
"The ruling by the Moscow City Court has been appealed and a higher court could overturn the ruling. However, Mr Sushchenko was detained in September 2016 and an appeal process is time-consuming. The Board is urging all parties to take action to secure that Mr Sushchenko without delay is returned to his home country for instance via an exchange of prisoners," reads the statement.
Over one-and-a-half years of Sushchenko's illegal arrest, the EANA Board has repeatedly called on the Russian authorities to release the Ukrainian journalist if no convincing evidence of guilt is presented.
The European Alliance of News Agencies was founded in 1956 and currently unites over 30 leading news agencies in Europe. Ukraine is represented at the alliance by Ukrinform, which has been a member of EANA since 1995.
Roman Sushchenko has been working at the Ukrinform Ukrainian National News Agency since 2002, and has been the agency's correspondent in France since 2010.
On September 30, 2016, he was detained in Moscow, where he arrived on a private visit.
On October 7, 2016, he was charged with "espionage." Russia's FSB stated that Sushchenko was a member of the Main Directorate of Intelligence of the Ukrainian Defense Ministry. The latter denied this statement.
Sushchenko has always stated, including in his "last statement" at a court hearing on May 28, 2018, that he does not admit his guilt.
However, on June 4, the Moscow City Court announced the sentence to Sushchenko - 12 years in a high-security penal colony.
On June 5, Roman Sushchenko's defense team appealed the verdict to the Ukrainian journalist.
At the same time, Sushchenko's public defender Mark Feygin predicts that the appeal process may take six months.
On June 6, the International and European Federation of Journalists (IFJ-EFJ) called on the Russian authorities to release Sushchenko.
The Ukrainian leadership will continue to fight for the release of the journalist from the Russian prison. On June 7, the Verkhovna Rada of Ukraine asked the international community to condemn Russia's aggressive policy and increase pressure on Russia, including for the release and return to Ukraine of Sushchenko and other Ukrainian political prisoners.
Sushchenko's defense team does not rule out his exchange.