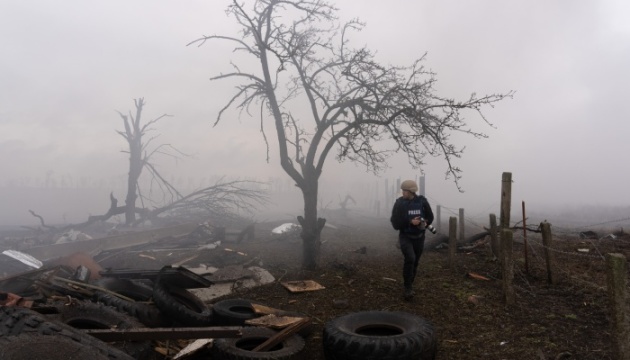 20 days in Mariupol to compete for Oscars
The Ukrainian Oscars Committee selected Mstislav Chernov's documentary 20 Days in Mariupol as Ukraine's entry for the Academy Award in the Best International Feature Film category.
This was announced by the Ukrainian Film Academy on Facebook, Ukrinform reports.
"At the meeting on September 18, the Ukrainian Oscar Committee selected a film that will represent Ukraine among the contenders for nomination for the Academy Award in the category Best International Feature Film. It was 20 Days in Mariupol by Ukrainian journalist and photographer Mstislav Chernov," the report says.
It is noted that the film was selected by a majority vote of the UOC members. The UOC is chaired by Valentyn Vasianovych.
The film shows the outset of the full-scale invasion, the bombing of the maternity hospital, and the rescue of the author of the film and his colleagues with the Associated Press from Mariupol, the city besieged by Russian troops. Photographer Yevhen Maloletka and producer Vasylisa Stepanenko worked on the film along with Chernov.
The jury was selecting among five films: "20 Days in Mariupol" by Chernov, "Iron Butterflies" by Roman Liubyi, "Pamfir" by Dmytro Suholytkyi-Sobchuk, "Terikony" by Taras Tomenko, and "SHTTL" by Ady Walter.
As reported by Ukrinform, the feature House of Splinters, shot in Ukraine in cooperation with Denmark, Sweden, and Finland, was nominated for the Academy Award in the category "Best Documentary Feature Film in 2023.