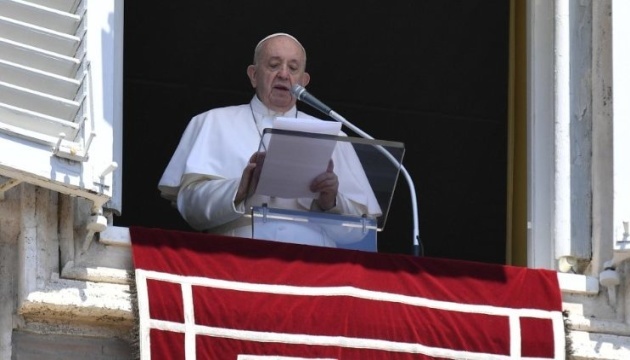 Pope prays for peace in Ukraine
During the Sunday prayer, Pope Francis gave a short greeting to the pilgrims from Ukraine, present in St. Peter's Square, and called on them to pray for Ukraine.
This was reported by Vatican News, Ukrinform saw.
Among the pilgrims who on Sunday, September 17, 2023, came at noon to St. Peter's Square in the Vatican to join the "Angel of the Lord" prayer, were Ukrainian nuns from the Congregation of Missionaries of the Most Holy Redeemer.
Their presence did not go unnoticed by the Holy Father, who, greeting various groups of pilgrims, seized this opportunity to remind the world of Ukraine's suffering and call for prayer, as he does every Sunday.
"I greet all of you, Romans and pilgrims from Italy and various countries, in particular [...] the Missionary Sisters of the Most Holy Redeemer of the Ukrainian Greek Catholic Church. And let's continue to pray for the suffering Ukrainian people and for peace on every land stained with blood due to war," he said.
As Ukrinform reported earlier, Pope Francis admitted that his recent comments on Russia, which Ukraine perceived as those glorifying imperialism, were poorly worded, and emphasized that his intention was to remind young Russians of a great cultural heritage, not a political one.