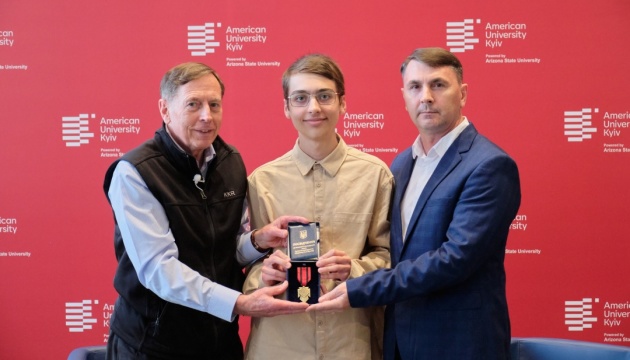 Ex-CIA chief covers tuition fees for son of fallen Ukrainian soldier
The former CIA Director, David Petraeus, paid all scholarship fees for the son of the fallen Ukrainian hero, Oleh Snitsar, who studies at the American University Kyiv.
As reported by Ukrinform, American University Kyiv announced this on Facebook.
Last week, the university hosted a meeting of students, friends and partners of the facility with General David Petraeus, world's leading world expert on global security issues and a great friend of Ukraine, at which General Petraeus shared his thoughts on Ukraine's successes in a war with Russia.
"AUK is thankful to General David Petraeus not only for these visionary talks but also for his generous support of the AUK Scholarship Fund for Children of Fallen Heroes initiated by AUK President Dan Rice," the statement reads.
The goal of the FUnd is to provide the children of fallen heroes with the opportunity to obtain a high-quality American higher education in Ukraine.
General Petraeus not only fully covered the cost of scholarship but also became a mentor to Arsen Snitsar, an AUK student and son of a fallen hero. Arsen's father, Oleh Volodymyrovych, is one of the servicemen who sacrificed their lives defending Ukraine.
During the event, Major General Vladyslav Klochkov, head of the Main Department of Moral and Psychological Support of the Armed Forces of Ukraine, presented Arsen with the Medal of Valor posthumously bestowed on his father.
During the event, General Petraeus said: "We have a moral obligation to look after the children of the fallen patriots. The biggest way to ease the burden of the family of the fallen heroes is to provide the opportunity for his or her son or daughter to get a quality education. This is what the fallen patriot would have wanted for this child."