Book about Russian crimes presented in Yahidne village, Chernihiv region
A presentation of the book 'Struggle of the Unconquered: Crimes of the Russian Occupiers in the Chernihiv Region' was held in the village of Yahidne, in the Chernihiv region.
The operational command North reported this on Telegram, according to Ukrinform.
"This event took place at the entrance to the school basement in Yahidne, where in March 2022 the invaders set up a concentration camp for local residents," the statement reads.
The book contains stories about Russian crimes in the Siverskyi region, the heroic resistance of Ukrainians, and the victorious battles of the defenders of Ukraine.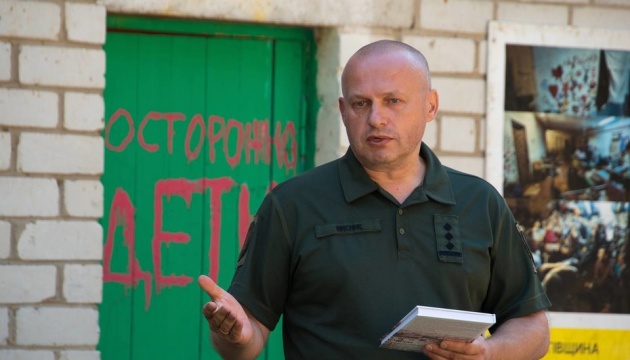 The publication contains a chronology of events, analysis, documents, eyewitness accounts, expert testimonies, and unique photos.
"This book is in a way a unique historical document and, in fact, a kind of unified encyclopedia of the war in the Chernihiv region," noted the operational command North.
The author of the book is Pavlo Solodovnyk. Journalists from the Chernihiv-based media outlet "Cheline", together operational command North, the Chernihiv Regional Territorial Center for Recruitment and Social Support, the Chernihiv Regional Prosecutor's Office, and the Security Service of Ukraine in the Chernihiv region, contributed to its preparation.
As Ukrinform reported, on March 3, 2022, Russian invaders entered Yahidne, in the Chernihiv region. They drove the residents out of their homes and herded them into a school basement. In total, the Russian military held 367 people in the 197-square-meter school basement, including 50 children and several infants. 11 villagers died because of the inhumane conditions, and ten more were shot by the invaders.