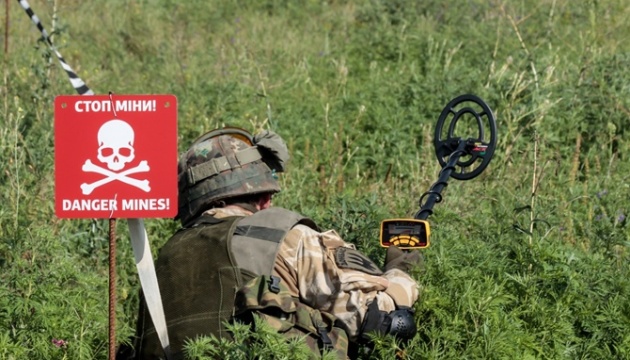 Defense Ministry: 470,000 hectares of agricultural land must be examined as part of demining efforts
Some 470,000 hectares have to be examined in accordance with the plan for the demining of agricultural land in areas liberated from Russian invaders and in some other regions.
The Ministry of Defense of Ukraine reported this on Telegram, according to Ukrinform.
The issue concerns territories in the Kyiv, Chernihiv, Sumy, Cherkasy, Dnipropetrovsk, Zaporizhzhia, Mykolaiv, Kherson and Kharkiv regions.
"More than 1,000 specialists and 17 mechanized demining machines from the Armed Forces of Ukraine, the State Special Transport Service, the State Emergency Service, the National Guard, the National Police and mine action operators are involved in fulfilling this task," the post said.
According to the report, almost 188,600 hectares of agricultural land have been examined so far, of which 124,017 hectares need to be cleared of mines. As part of the operational response, 76,223 hectares have already been cleared, and more than 7,800 hectares require humanitarian demining measures, which are carried out by mine action operators.
As of September 4, some 68,310 hectares of agricultural land were cleared of explosives in the Kherson region, 49 hectares in the Kharkiv region, 8,417 hectares in the Mykolaiv region, 947 hectares in the Kyiv region, and 95 hectares in the Chernihiv region.
Ukraine's First Deputy Prime Minister, Minister of Economy Yulia Svyrydenko earlier called on diplomats to help Ukraine realize its ambitious goal of demining 80% of potentially contaminated territories within ten years.