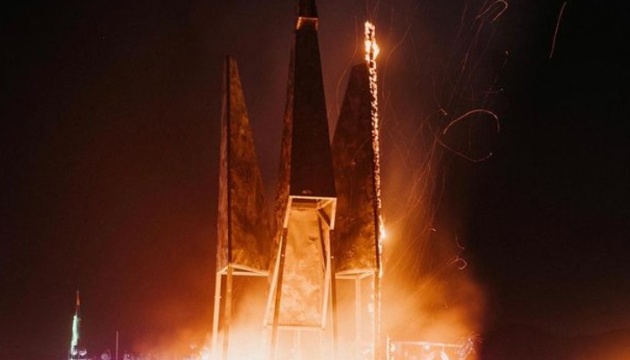 Ukrainian "Phoenix bird" stars at Burning Man
In the Black Rock Desert, Nevada, at the annual Burning Man festival, Ukrainian artists presented on Thursday an impressive artistic act – a flaming Phoenix bird, from the ashes of which a huge and unbreakable Ukrainian trident of steel emerges.
This is reported by Ukraine's Minister for Foreign Affairs Dmytro Kuleba, Ukrinform wrote citing his Instagram.
Burning Man is one of the most iconic events in world culture, held in the Black Rock Desert, where leading artists from all over the world bring their works, wrote the top diplomat.
"I am grateful to the artists who created this installation, the talented Ukrainian artists Oleksiy Sai and Bohdana Kosmina, as well as the team of the STROOM ART group, which implemented the project - Vitaliy Deinega and Alla Lopatkina," Kuleba noted.
According to him, the Phoenix bird is exactly the powerful narrative that the country is promoting internationally.
"Unbreakable Ukraine, which is reborn and emerges stronger from the ashes of war," he added.
The animated legend about the Phoenix bird was recited by Tata Kepler, a Ukrainian volunteer and founder of the Ptakhy (Birds) charitable movement, Kuleba said.
Representing Ukraine in the international art arena is as important as on a diplomatic track, he noted.
The minister also posted a video about the said art installation.