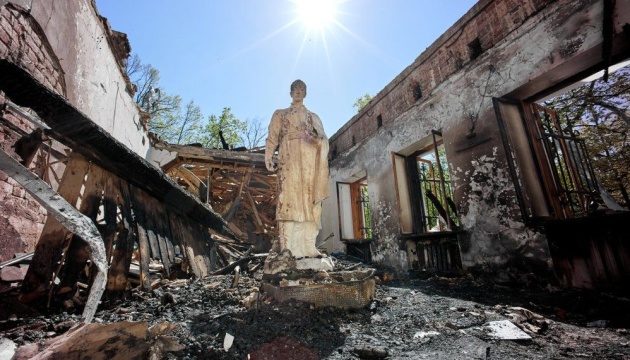 Russian war leaves 1,624 objects of cultural heritage affected in Ukraine - ministry
Since the outset of the full-scale war in Ukraine, 1,624 objects of cultural heritage were damaged and almost a third of them were destroyed.
This was reported by the press service of the Ministry of Culture and Information Policy, Ukrinform saw.
"The Ministry of Culture and Information Policy of Ukraine continues to document damage to cultural infrastructure objects in Ukraine as a result of Russian aggression. Thus, as of August 29, 2023, a total of 1,624 cultural infrastructure objects suffered damage, not including cultural heritage monuments. Almost a third of them (591 objects) have been destroyed," the report reads.
It is noted that over the past month, the total number of affected objects of cultural infrastructure has increased by 19, most of which are in Odesa (five, or 26%). At the same time, the cultural infrastructure in Donetsk, Kherson, Kharkiv, Kyiv, Mykolaiv, Zaporizhzhia and Luhansk regions suffered significant losses.
As noted by the the ministry, art club institutions are leading the list of damaged objects and make up 47% of the entire cultural infrastructure affected by Russian strikes.
In total, 769 art clubs, 610 libraries, 93 museums and galleries, 30 theaters and philharmonic halls, as well as 122 art education facilities, were affected.
Club facilities, libraries, museums, theaters, philharmonic societies, art schools and colleges, and objects of cultural heritage were damaged or destroyed on the territory of 230 territorial communities (15.7% of all). Most – in Donetsk (87%), Sumy (51%), Luhansk, and Mykolaiv regions (42% each).
At the same time, 37% of cultural heritage sites were damaged or destroyed in Kherson region, 36% in Kharkiv region, 33% in Zaporizhzhia region, 29% in Kyiv region, 18% in Dnipropetrovsk region, 16% in Chernihiv region, 12% in Zhytomyr region, 8% in Khmelnytskyi region, 6% in Odesa region, 4% in Lviv region, 3% in Vinnytsia region, 3% in Cherkasy region, and 2% in Zakarpattia region.
The ministry recalls that almost the entire territory of Luhansk region and significant parts of the territories of Kherson, Zaporizhzhia, and Donetsk regions remain under temporary occupation. This makes it impossible to calculate the exact number of objects of cultural infrastructure affected amid hostilities and occupation.
As Ukrinform reported earlier, Acting Minister of Culture and Information Policy, Rostyslav Karandeiev, and representatives of the UN International Commission for the Investigation of Violations in Ukraine identified the priority areas of cooperation, in particular, regarding the documentation of damage sustained by Ukraine's cultural heritage objects.