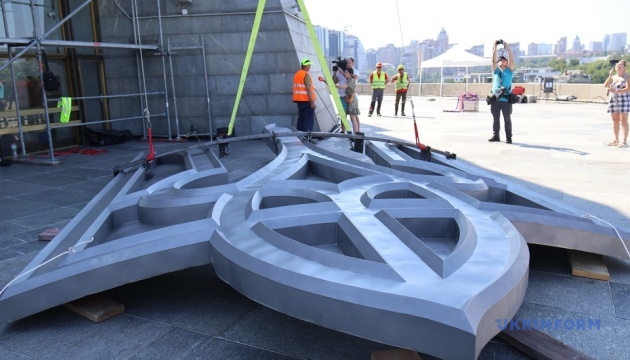 Trident being installed on Ukrainian Motherland monument in Kyiv to replace Soviet-era coat of arms
In Kyiv, work is underway to install the Trident on the the Ukrainian Motherland monument.
This is reported by Ukrinform.
Photo: Pavlo Bahmut, Ukrinform
Earlier, a meeting was held with the participation of Acting Minister of Culture and Information Policy Rostyslav Karandeiev, the management of the National Museum of the History of Ukraine in the Second World War, and contractors.
"We expect that the work on replacing the Soviet coat of arms with the Trident will be completed on time. By the Day of the National Flag of Ukraine and Independence Day, we will be able to please the Ukrainian people with such an important and necessary element of our confrontation in the ideological struggle with the enemy," said Karandeiev.
As Ukrinform reported earlier, in July, the State Inspection for Architecture and Urban Planning issued a permit to refurbish the shield of the Ukrainian Motherland monument in Kyiv.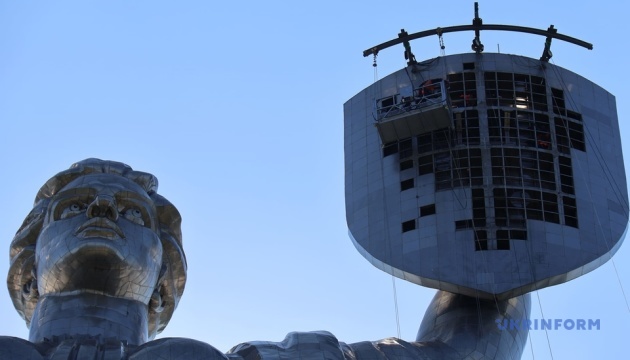 Project solutions provide for the replacement of the Soviet coat of arms installed on the shield with the Ukrainian Trident.
Photo: National Museum of the History of Ukraine in the Second World War